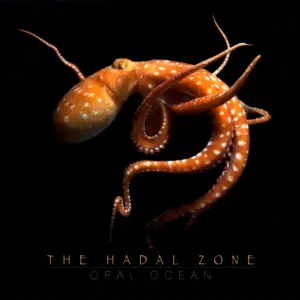 This review goes to the ones that love purely instrumental acoustic albums with a spanish guitar touch. First thing that came to my mind listeninfg to the seconds "The Hadal Zone" was the iconic album "Friday Night in San Francisco" with Paco de Lucia, Al Di Meola, and John McLaughlin a forgotten gem that many metallers of my time used to love and cherish. You may not know, but the trio Paco de Lucia, Al Di Meola, andJohn McLaughlin were a great reference for many Metal guitarists.
One of the things that I admire the most on us metalheads is this passion for music and when I say music I mean music done by humans. The warm sound of the acoustic guitars of this album from Opal Ocean shows that music is a language that many try but only a few speak. It's not hard to find those references in all genres of Metal albums and I don't mean bands that have shredders in their line-up, a lot of Metal bands try to accomplish this talent.
It's really funny how music can activate some neurons aof memory in our minds. Listening to "Shape Shifters" in a sunday made me remember some Italian ancestry memories. The table, TV shows, the people talking and many others. Besides the spanish guitar mood in the album "Shape Shifters" show that Opal Ocean cherish some Italian guitar as well. Following track "Fight or Flight" shows that the acoustic guitar can get real heavy and restless. The song is a rapid movement with lots of tapping and rhythm.
The genbral feeling in "The Hadal Zone" may be the one I told before, however little by little Opal Ocean go adding other influences as in "Desire Path" that makes the album sounds a little more Art Rock. Just a little. Besides that "Micro Rave" tries to emulate a rava party or something with the guitars and some effects. I confess that the outcome is pretty interesting and intriguing. I wish rave music were like this. But I guess the best track of the album is "Polycephaly" with its ethereal and spacely mood mixed with some classical ideas and piano. Great tune.
This album is for the metallers that truely love music and don't where it comes from. By the way shredders, lots of interesting ideas…
Opal Ocean "The Hadal Zone" was released in 2020.
Track Listing:
Schmeckledy Pop
Time I Live
Point of No Return
The Hadal Zone
Quantum
Bucket of Fish
Radiozoa
Shape Shifters
Fight or Flight
Desire Path
Micro Rave
Visions
Polycephaly (ft. Jordan Rudess)
Call to the Void
Watch "The Hadal Zone" official video here: