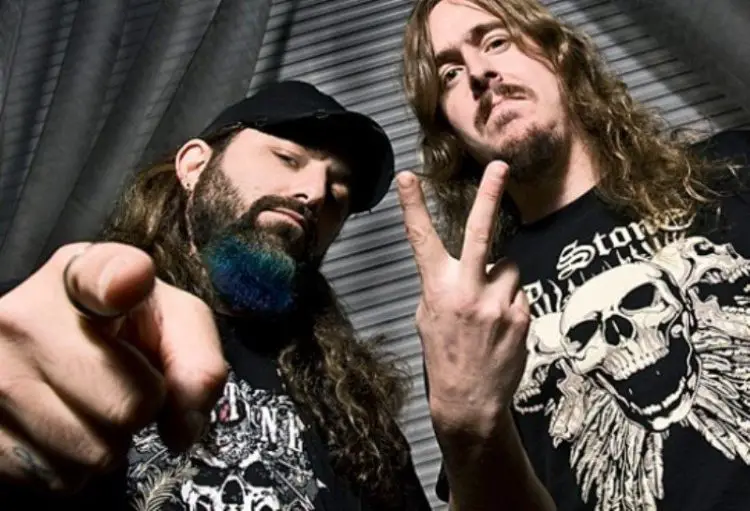 During a appearance on The Metal Sucks Podcast, OPETH mainman Mikael Åkerfeldt spoke about the possible collaboration with former DREAM THEATER drummer Mike Portnoy.
Portnoy said in 2017: "[I'd love to work with] my buddy Mikael Åkerfeldt. We talk about it all the time, but we're both so busy."
Now, when asked if there is "any movement" regarding the collaboration, OPETH frontman said: "I love Mike, I consider him a friend of mine, and he's done so much for the band by bringing us on tour twice when he was with DREAM THEATER, always being very supportive.
"He presented us with an award two years ago in London," he continued. "He's a super, super nice guy, massive fan of music, just like myself. There's many similarities between myself and Mike, on top of having the same first name. He's a great guy and a great f*cking drummer.
"I would love to do something with him, I just don't know what it will be. I told him a few years back – he wanted to do a really heavy record, and I was, like, on the way to, like, Heritage.
"I was, like, 'I've done that for such a long time, would I want to do that again? Not necessarily.' I wanted it to be something completely new. We talked about him when me and Steven Willson did that STORM CORROSION [project], but there was so little drums on the record [2012's self-titled] that we felt like there's no need really for a drummer of that caliber on that record.
"We've been talking about it ever since," Mikael added. "I mean, it's fun to do a project for those kinds of things, I guess, but I wanted it to be something, I don't want it to be just two semi-famous metal dudes collaborating on nothing. I wanted it to be f*cking special. I still haven't kind of cracked that idea what that would be."
OPETH will release its new album, In Cauda Venenum, on September 27th via Moderbolaget / Nuclear Blast Entertainment.
Recorded last year at Stockholm's Park Studios, In Cauda Venenum will be released in two versions, in both Swedish and English languages.
Regarding the sonic direction of the new record, Åkerfeldt adds, "For us, at this stage with In Cauda Venenum, heaviness isn't guitars tuned down with screaming vocals over the top. That's not necessarily what I call 'heavy' music these days. I can listen to KORN and say, 'OK, that's heavy.'
"But it doesn't really mean anything to me. I mean, I catch up on things in magazines or online. I read about bands that have the 'heaviest record ever,' and I'm not too impressed by that. OK, it's cool but what does it say? What does it mean? It's an impossible mission, to be the heaviest. That's been done before. Over time, I got tired of that tag.
"Of course, when I was younger it meant everything to me. I was always on the pursuit for heaviness in my youth, trying to find the next level of heaviness. First it was death metal, then it was bands like MESHUGGAH, but heaviness is now more about emotions, heavy chord progressions, music that has feelings. Heaviness doesn't mean MESHUGGAH anymore, although indeed they're a f*cking heavy band. I'm not trying to tap into that anymore."