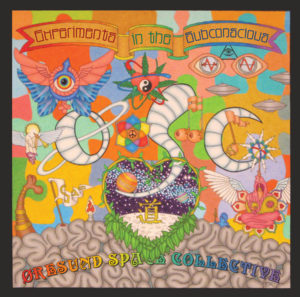 As the corona virus has slowed down the flow of releases, I'm taking my time to cover bands that I couldn't review due the intense and frenetic flow of releases we used to have here at Metal Addicts. It allowed me to have some great surprises as this Øresund Space Collective and "Experiments in the Subsconsious." The Metal Addicts fan who follows our reviews may have noticed that I try to stick to Metal only releases, but from time to time I allow myself to cover the genres that gave Metal its influences as Rock, Heavy Rock, Acid Rock, Psycheledic Rock, Blues, Blues Rock and others. I do that for two reasons; first because I love them as well, second because I think metallers should know them as well and also because I do love good music – hum, I wrote three, but said two. Whatever – In fact, I have a confessed a weakness  for instrumental efforts and this album happens to be coincidentally both – you know that I don't believe in coincidences. There is no such thing.
There are only five tracks in "Experiments in the Subsconsious," but it doesn't qualify it as an EP due to the more than seventy minutes – wow! – of recording herein. Musicwise, "Experiments in the Subsconsious" follows perfectly what the title says. It's a trip to the subsconscious, or as some may say "Damn hippie music!". Well, as a matter of fact, the music here can be roughly labeled as hippie music. However, what Øresund Space Collective great music offer us. For the fan that loves to trip listening to music, "Experiments in the Subsconsious" is a spoonful of delight. The drumming, as usual in this kind of music, is fantastic. Drummer Tim hits hard, but with finesse and lots of groove. It's amazing what the man does with his drum kit. How about the guitars? Well, for the record, Magnus, KG, and Jonathan teach a lesson on 1970s guitar mostly used techniques. The guys kind of cover them all during the seventy minute album. And I have to mention the bass lines which are very well built and take the album to another level.
This kind of music may strange the most loyal Metal fan, specially if the listening starts by the fourth track "Oops" – yeah, that's right. I guess by its title this track is a kind of joke Øresund Space Collective made to the fan. But coming back to the music, if the fan opens his mind, there will be seventy minutes of pure musical delight. I assure you.
Øresund Space Collective "Experiments in the Subsconsious" was released on February 07th via Spacerock Productions.
Track Listing:
Lost in Africa
Prosthetic Cuban
Lost Milesage
Oops!
Hieroglyphic Smell
Watch "Prosthetic Cuban" official video here:
876