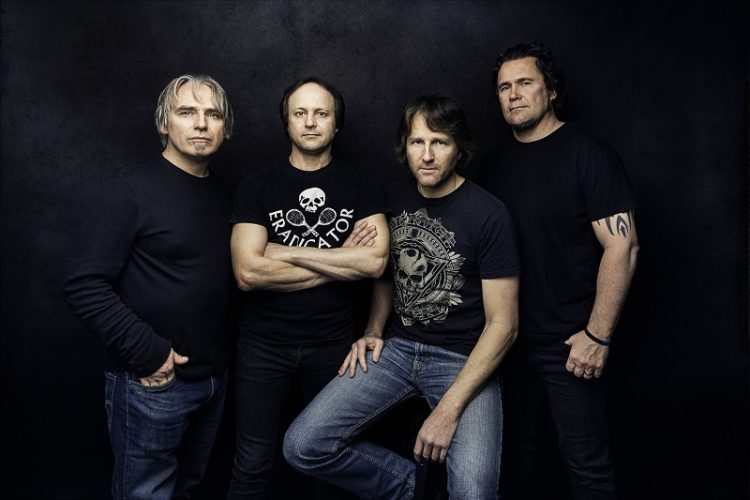 Thrash metal never dies! Like some mutated metal monster; a Thrashzilla if you will, it sees off all trends; and comes back stronger than ever.
One of the reasons for this is the love both fans and musicians alike have for this most durable form of metal. Such a band are 80s legends Ottawa's INFRARED; a band who made a big impact with Canadian fans in the 80s; and have in recent years returned to cement and carry on their own legacy, releasing a newly-recorded album of their classic material "No Peace" in 2016, which will now be followed by their new album "Saviours" due out May 25th, 2018.
An apt name for an album because INFRARED really are Saviours of classic thrash metal!
Describing INFRARED's sound as "thrashy, aggressive, melodic, heavy, and tight", guitarist/vocalist Armin Kamal explains that INFRARED's inspirations run deep: "The Big Four will stand out as we have been described as a band with a bay area sound…But our influences are truly rooted in 70s and early 80s metal. Accept, Scorpions, Black Sabbath, Iron Maiden, and Judas Priest are all bands that laid the foundation and the love of metal for us!"
Armin is stoked for fans to hear INFRARED's new "Saviours" album: "Anyone who likes a more classic thrash sound, and longs for those days, just like we do, will dig this album. Since we are from that era, we are not trying to bring back that style of music, we are simply continuing what we know and do best!"
An album teaser for "Saviours" can be heard below.
Track Listing:
1. Project Karma (6:48)
2. The Demagogue (6:52)
3. Saviour (6:04)
4. The Fallen (6:33)
5. All In Favour (5:51)
6. They Kill For Gods (7:41)
7. Father of Lies (5:55)
8. Genocide Convention (5:33)
Album Length: 51:20
Band Line Up:

– Armin Kamal (Vocals and Guitars)

– Kirk Gidley (Guitars, Backing Vocals)
– Alain Groulx (Drums, Backing Vocals)
– Mike Forbes (Bass, Backing Vocals)