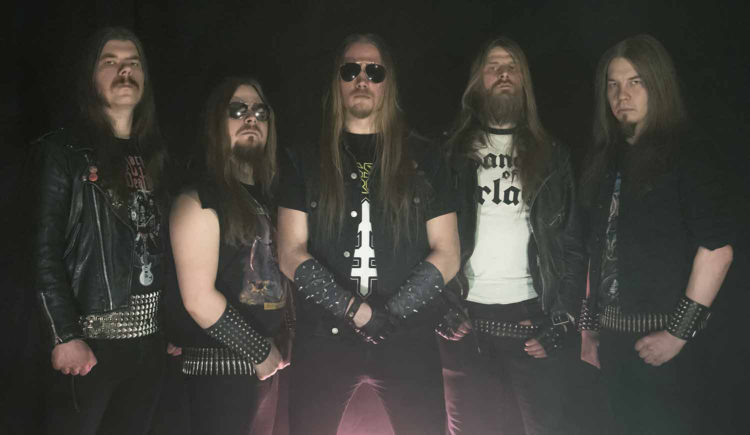 OUTLAW were originally formed in Lappeenranta, Finland, in 2015 by vocalist Lee Anvel and bassist John Kaiser. The line-up is completed by guitarists Jimmy Slashburner and Simon Shatter plus Johnny Gutter on drums. After an initial demo tape by the name of "Speed Calls" High Roller Records stepped in and offered a deal for the band's debut longplayer "Marauders." "Marauders" features eight self-penned tracks, which singer Lee Anvel describes as follows:
"I've been aiming for a Saxon-kinda approach when writing material; they have very different songs but are still always recognizable. We are influenced by a lot of different bands, but not many of those influences come from this millennium."
The title track for example sounds a bit like mid-period Priest ("British Steel" to "Screaming For Vengeance")
without the obvious high vocal screams … Lee Anvel agrees:
"Yes, when I composed the song 'Marauders' I was going for a more commercial Priest-esque sound and my intention was to throw in a certain Scandinavian vibe as well."
Apart from Priest, Iron Maiden have been a big inspiration for OUTLAW. "Heroes Of Telemark" is probably the most
"epic" number on "Marauders" coming across quite "majestic" (possibly sounding like a cross between classic
Heavy Load and early Hammer Fall) … Lee Anvel explains:
"I wanted to do something epic and in the vein of Maiden's 'Where Eagles Dare.' I took the title from a war movie. Telemark is in Norway, and in the second world war the Germans had a factory there where they made heavy water for nuclear weapons. The song is about a handful of Norwegian soldiers who tried to take that factory down."
On "Marauders" OUTLAW mix US Metal, NWOBHM and Euro Metal but according to their singer this will probably
change in the not too distant future:
"I've started composing new songs for a possible second album and it seems to me that the future of OUTLAW will be less NWOBHM and more US power metal."
Read our review here.