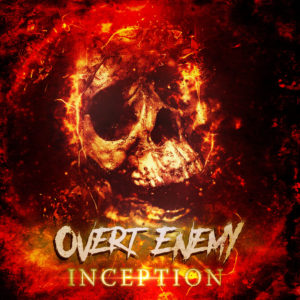 It's funny how even exact measures mean different things to different people. For a Doom Metal band, an album with five songs is a full-length; but, for a Thrash Metal band, it's an EP due to their own conception of music length. Doom loves long songs, Thrash is the opposite.
Overt Enemy with "Inception" is an EP with only five songs, but they are enough to get a good picture from the band. Actually, it's possible to divide "Inception" in three different moments – yeah, right!: from first and tittle track "Inception" which is a rare version of a tittle track to be instrumental; second track "Mercenary" shows all the influences Overt Enemy have to show, most notably Anthrax and the New York Thrash scene; and the last, but not the least, "Political Cancer," which in today's labels could be a Technical Thrash Metal track. A fun fact is that "Inception" has two alternative versions of "Mercenary" and "Political Cancer." Go figure why.
Overt Enemy are a great band for those who think Thrash doesn't have anything else to offer. Flat wrong, my child of the night. Grooves and aggression walk side by side here. That's the beauty of it. The good old classical Thrash mixed with generous doses of modernity. Very sharp and effective guitar interventions mainly in "Political Cancer" which is the track that pretty much gives a great idea of Overt Enemy.
Overt Enemy "Inception" was released on March 01st via Confused Records.
Track Listing:
Inception
Mercenary (Radio_Edit)
Mercenary [Explicit]
Political Cancer (Radio_Edit)
Political Cancer [Explicit]
Watch "Political Cancer" official video here: