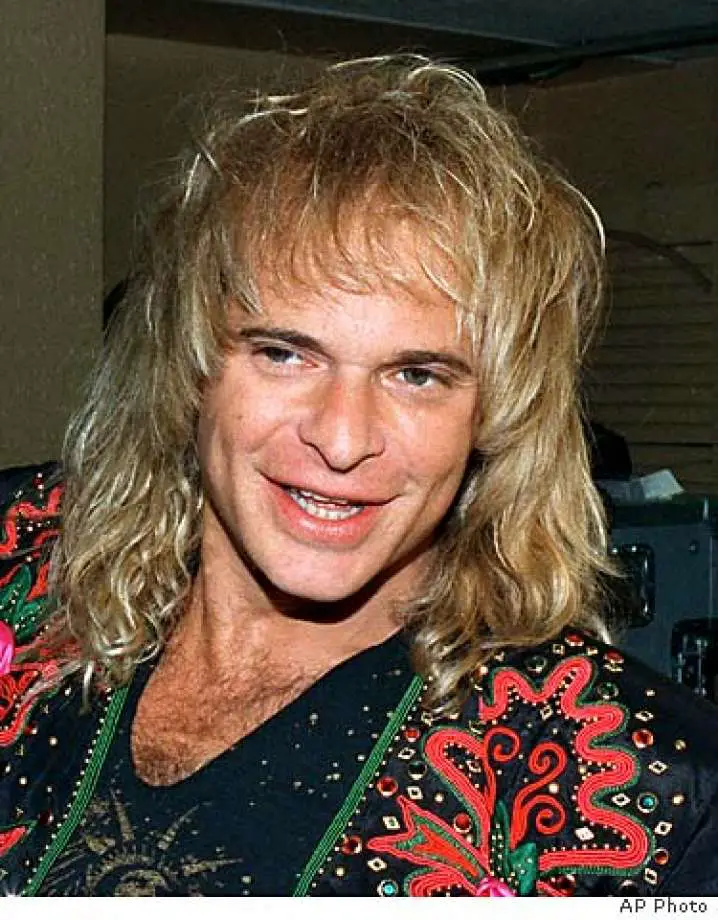 When you think you've heard it all about Mr. Madman, the dude comes with another. History goes that  in 1978 Van Halen and Black Sabbath teamed up for a tour to end all tours. Van Halen shared bills with a bunch of big acts in '78 during their first world tour, all of whom immediately regretted the decision because VH was next to impossible to upstage. I mean, how do you follow a band that shows up to a gig by parachuting from a plane, then catches a ride from a van waiting for them on the ground, and starts playing the show still wearing the jumpsuits they jumped out of the plane in? Oh, and they just happen to be Van f* Halen, no big deal. Of course, the members of VH didn't actually jump out of a plane in California just so they could play their set at the Anaheim Stadium Summer Fest in September of 1978, they had stuntmen do it, so they didn't miss out on happy hour before the show. Priorities, Van Halen have 'em.
In getting back to VH's tour with Black Sabbath, Sabbath quickly learned their choice of opening bands might have been a mistake. Ozzy told writer Greg Renoff (author of the fantastic book, Van Halen Rising) that he and Sabbath were "stunned" after witnessing Van Halen's set during the start of the tour in Europe in May of 1978. 1978 had been a rough year for Sabbath, and their collective drug and alcohol consumption was at an all-time high. Stop me if you've heard this one before, but this was especially true for Ozzy.
Ozzy was so messed up he actually quit the band, briefly forcing Sabbath to replace him with Dave Walker (Fleetwood Mac/Savoy Brown). Ozzy would return, and the tour rolled on through Europe, eventually wrapping up in the U.S. for the second leg of their North American shows. The night before the tour stopped in Nashville, Tennessee, Roth and Ozzy decided to stay up until nine in the morning doing blow to see which one of them would faceplant first. Score one for DLR for having the balls to challenge Ozzy to a competition involving drugs without dying in the process. Somehow, both Roth and Osbourne made it to the airport, got to Nashville, and checked into their hotel. Later on when it came time to head off to sound check, Ozzy didn't show up. The tour manager had never given Ozzy the key to his room which would explain why Ozzy wasn't found there either.
Things got frantic quick given Ozzy's less than stellar track record of not being a responsible human and it had everyone thinking the worst—the singer had been kidnapped or was lying dead somewhere in Nashville. At some point when it became clear Ozz wasn't going to materialize in time for the show, Roth said members of Sabbath asked him if he could sing any of their material, but he didn't know any of their lyrics. Van Halen would play their opening slot, but Sabbath would have to cancel for obvious reasons. By this time the hotel and surrounding areas were now swarming with the local police and the FBI, all searching for Osbourne. At the center of it all was David Lee Roth, as he was technically—as far as anyone knew—one of the last people to see Ozzy alive. Searches for the singer turned up no clues, no sightings, nothing. Then, as things were starting to seem quite bleak Roth recalls Sabbath had been hanging out sitting on a carpet in the hotel lobby, grim as f*ck waiting to have their worst fears confirmed. What actually happened was a very out-of-it-Ozzy headed up to what he thought was his room, #616, as he still had the key from the previous night's hotel in his possession. The room was being cleaned and Ozzy told the housekeeper to beat it so he could crash for eighteen hours or so after doing blow for half a day with DLR. According to the police report, when he woke up, he realized he was in the wrong room and toddled off to his real room where he picked up a call from a Nashville detective. Dave remembers at around 6:30 in the morning a not dead, maybe only half dead Ozzy walked out of the hotel lobby elevator. Here's a hilarious quote from Lt. Sherman Nickens of the Nashville, Tennessee PD on the incident. Oh, Lt. Nickens, if you only knew!
"Ozzy Osbourne may have been kidnapped or been the victim of some other form of foul play. Here's a man who makes a lot of money and has never missed a show in ten years. He doesn't drink or use dope. He disappears and his people are so frantic. So it was possible that something had happened to this man. While all the time he's sleeping."
Let this be a lesson to you folks: never challenge David Lee Roth to a cocaine duel—you will lose.
Sabbath returned to Tennessee with VH a few days later to make up the gig and by most accounts it wasn't great, as Osbourne's voice was shot. What follows are photos of VH and Sabbath (one is NSFW) taken during their massive tour in 1978. Also included below is footage of Sabbath's incredible performance at the Hammersmith Odeon on June 1st, 1978, and equally impressive bootleg audio of Van Halen's set the same night. Your speakers are about to get a well-deserved workout.
Thanks to Dangerous Minds.