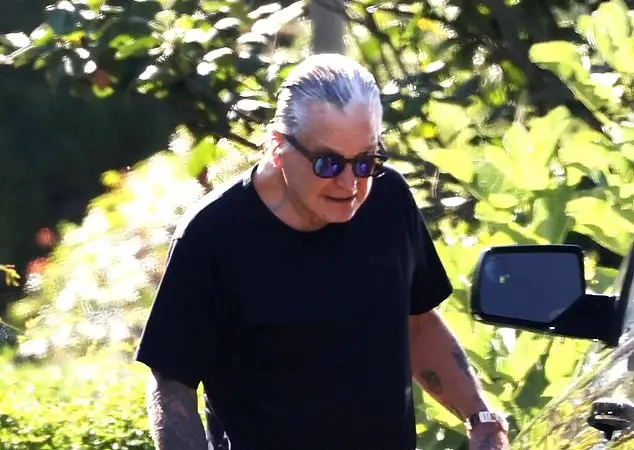 Ozzy Osbourne was once again photographed in his new look as he stepped out for a stroll  in Santa Barbara, California, this past Monday.
Legendary BLACK SABBATH singer was spotted in public in late August which marked his first public sighting out in months amid his Parkinson's battle.
After first photos of Ozzy with grey hair started making rounds, his son Jack said that the reason his father hasn't dyed his hair is because it's "not recommended for people with Parksinson's to go get their hair dyed" during pandemic.
In a recent interview with Rolling Stone magazine, Ozzy talked about new music, which would mark the follow-up to this year's Ordinary Man.
"I'm trying to write something new with [Ordinary Man producer and guitarist] Andrew [Watt], but he had COVID. He was very sick, and he still is. The thing about this f*cking COVID thing is, I don't think they really know what they're f*cking dealing with; it changes.
"One time, we're told it's harmful to older people; now it's also harmful to young kids. It's f*cking weird," he continued. But he [Andrew] was one of the first ones to get it. And he's still kind of sick with it. He had a good day and a bad day, you know? It f*cks your lungs up."
Ozzy added: "We were supposed to be doing it, but he texted me the other day and said, 'I have to ask for some time.' I said, 'Whenever you're ready, call me.'"
In July, Prince Of Darkness provided an update on his heath status saying that at one point he was convinced he's dying.
"I'm not back to 100 percent," he said during a SiriusXM Town Hall interview. "I'm about 75 percent there, but it's such a slow recovery. Spine surgery is bad news, man. I've been in such a bad state with pain; I'm still having a lot of pain.
"There was a point I was convinced that I was dying," he continued. "I was in that much discomfort and pain and misery. I thought they were all hiding it from me. I remember saying to Sharon, 'You've gotta level with me. Is it worse than you're making it out [to be]?' She says, 'No.' … I've dropped all the medication for pain now."