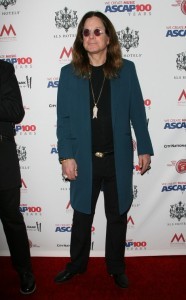 Ozzy Osbourne from legendary Black Sabbath recently conducted an interview with the Cleveland Scene. He spoke about his distaste for making music videos, especially during the '80s when MTV's popularity was on the rise and videos became an essential marketing tool for a single and album.
"You think these f**king directors were making 'War And Peace'," Ozzy said. "They were only three-minute videos.
"I remember when I was making the video for 'Mama, I'm Coming Home'. I went to this sky blue room and had to get a side of pork and walk across the room. I thought, 'What the f**k does this mean? [This is] going to cost 900,000 dollars.' I went and used the cameraman who did the NIRVANA video for 'Smells Like Teen Spirit'. He just did a video with me in the car. That cost about 10,000 dollars. I prefer the one I did because it was cheap and there was no elaborate f**king trickery. MTV played them both.
"Sometimes I would just go, 'What are you f**king thinking?' It's only a music video. It didn't warrant spending millions of dollars."
The BLACK SABBATH singer's "Memoirs Of A Madman" CD sold 4,200 copies in the United States in its first week of release to debut at position No. 90 on The Billboard 200 chart. The collection serves as a career-spanning audio release, featuring 17 of Ozzy's greatest hit singles compiled in one place for the first time in his career. Released on October 7 via Epic Records/Legacy Recordings, it is available in a single CD, two-LP set and two-LP picture disc set configurations.
 
Source: Blabbermouth