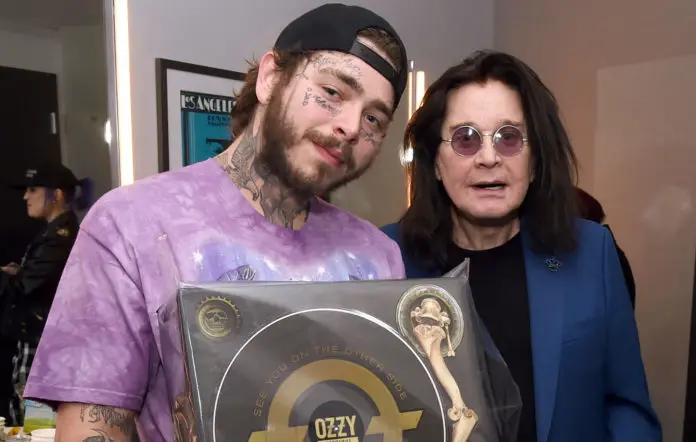 In a new interview with Kerrang!, Ozzy Osbourne talked about collaborating with Post Malone on the "Take What You Want" song from the rapper's latest album Hollywood's Bleeding.
"I said, 'Who the f*ck's that?'," Ozzy recalls. "But I ended up doing the song with him, and it was great. He was cool, and it felt good to be doing something again.
"One thing led to another, and Andrew [Watt] said, 'Do you wanna do some more? Carry on?' And I went, 'Yeah, let's see what happens…' So we just wrote an album, not really thinking about it too much, and it came out in no time."
He also talked about his health struggles he went through last year: "Do I ever think about when my time's gonna come? I think about it; I don't worry about it. I won't be here in another 15 years or whatever, not that much longer, but I don't dwell on it. It's gonna happen to us all.
"Am I happy now? No. I haven't got my health," Ozzy added. "That thing knocked the sh*t out of me, man, but I'm still here. In fact, I worried about [death] more when I was younger than I do now. I just try to enjoy things as much as possible, even though that's so f*cking hard sometimes."
On February 21st, Ozzy released his first new solo album in 10 years. Ordinary Man has been preceded by the release of two singles, the No. 1 rock track "Under The Graveyard", which was followed by "Straight To Hell" featuring GUNS N' ROSES guitarist Slash.
Ordinary Man track listing:
1. Straight To Hell (feat. Slash)
2. All My Life
3. Goodbye
4. Ordinary Man (feat. Elton John)
5. Under The Graveyard
6. Eat Me
7. Today Is The End
8. Scary Little Green Men
9. Holy For Tonight
10. It's A Raid (feat. Post Malone)
11. Take What You Want (Post Malone feat. Ozzy Osbourne and Travis Scott)