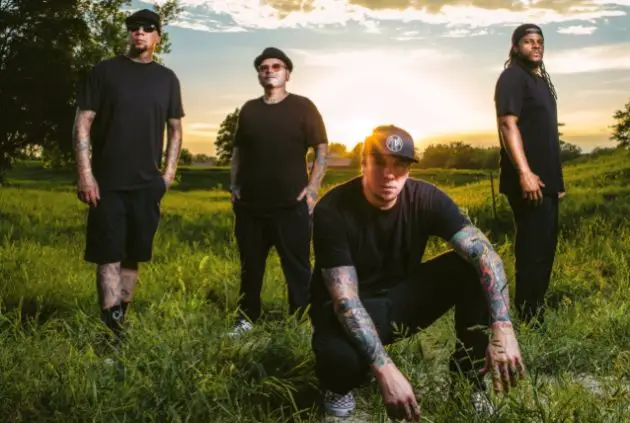 San Diego, California-based rockers P.O.D. (PAYABLE ON DEATH) will release their 10th studio album, "Circles", on November 16 via Mascot Label Group. The disc features the previously released single "Soundboy Killa" as well as "Rockin' With The Best", which can be heard below.
On "Circles", P.O.D. collaborated with the Los Angeles-based production duo called the Heavy(Jason Bell and Jordan Miller), who ensured the album is contemporary sounding without losing any of the band's core sonic signifiers. The rap-driven "Rockin' With The Best" has an old-school P.O.D. sound that nods to the BEASTIE BOYS, while "Always Southern California" is a reggae-inflected rocker and the groove-heavy "Soundboy Killa" is a hip-hop/metal hybrid. The dynamic title track even boasts moody electronic flourishes, glassy piano, and laid-back rapping verses.
"On 'Circles', we didn't limit ourselves and say, 'Hey, we need to please the metal crowd, or the hardcore crowd, or the punk crowd,'" says frontman Sonny Sandoval. "We just wanted to play and write songs that we hope are relevant and catchy to a new audience, while, at the same time, still being true to ourselves."
From a lyrical standpoint, P.O.D. kept a similar open mind, while turning to optimism for inspiration. The title track addresses trying to get out of an unhealthy cycle in which someone feels stuck, while "Dreaming" envisions seeking out a brighter future even if the present day is tough. Other songs grapple with how to navigate life's biggest challenges. "Home" emerged after Sandoval suddenly lost a close friend who was more like a brother to him. "Fly Away", meanwhile, acknowledges that all of us sometimes struggle, and need to rely on others for help.
"We're looking for answers — and we're going to people to help us get through things — but at the same time, no one's perfect," Sandoval says. "Everybody's going through stuff, and we're all kind of on this same level and the same journey of experience and just trying to figure out our course of life."
The idea of searching for a bright side has been a constant theme for P.O.D. over the years, both on newer songs such as "Lost In Forever" and "Beautiful" and on early hits "Alive", "Youth Of The Nation" and "Boom". Through it all, the members of P.O.D. — Sandoval, lead guitarist Marcos Curiel, bassist Traa Daniels and drummer Wuv Bernardo — have leaned on one another for support and creative inspiration.
"We are touring and making music because it still means something to the people that are coming out to see us, and people that are still listening to our music," Sandoval says. "We're humbled, we're grateful, and we're thankful for people that still enjoy what we're doing."
"Circles" track listing:
01. Rockin' With The Best
02. Always Southern California
03. Circles
04. Panic Attack
05. On The Radio
06. Fly Away
07. Listening For The Silence
08. Dreaming
09. Domino
10. Soundboy Killa
11. Home
Over the span of two decades, P.O.D. has released 10 studio albums, including the triple-platinum "Satellite". They have had several hit songs, including "Southtown", "Alive", "Youth Of The Nation" and "Boom", and most recently with their Active Rock singles "Higher", "Beautiful" and "Lost In Forever", which reached No. 1. The band has been nominated for three Grammy Awards, racked up four #1 music videos, and contributed songs to numerous major motion picture soundtracks.
The members of P.O.D. are also active members of a tight-knit music community, having collaborated with a diverse list of artists including Katy Perry, H.R. (BAD BRAINS), Mike Muir (SUICIDAL TENDENCIES), Sen Dog (CYPRESS HILL), and more. The band's tenth studio album, "The Awakening", was released in 2015.