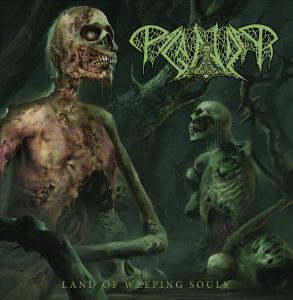 Of all the places in the world that are known for having extremely quality death metal, I feel it's safe to say that Sweden almost always takes the cake in that territory. That country has always had some of the greatest death metal bands to have ever existed, and that trend continues into modern times. But we've all heard about the larger bands and plenty have heard of the miasma melo-death bands out of Gothenburg, but what of the rest of the underground? Well, there's a presence that's been brewing for decades now with blistering releases and really laying down the power, showing how it's really done. That band is Paganizer, and while they've gotten loads of recognition over the years, they haven't achieved the high ranking status through their numerous releases. Although, I firmly believe that their upcoming monster, "Land of Weeping Souls", has the power to change that.
What's something that many people look for in a quality death metal album? Brutality? An immense sense of musicianship? Sticking to the core pillars of the genre while still opting to make things spontaneous? Or maybe just some simple riffage? Be it any combination of those, Paganizer brought all of them to the f**king table in an uncompromisingly tasteful fashion with this record more than any other. After ripping your attention away from that stunning cover art, the contents of "Land of Weeping Souls" is nothing less than a spectacular experience of death metal that cannot be stopped. All ten of these tracks are pulled straight from the very core that death metal has built itself upon, and Paganizer pepper in their own flavor and expertise to really allow each and every bit of this record to shine in their own right without need to rely on another cog in the brutally efficient machine that is "Land of Weeping Souls". This piece has simply got it all! Vocals that sound like the headmaster of that torturous marsh featured on the cover, guitars that absolutely peel away at your flesh layer by layer before the base comes along and cauterizes the wounds with hellfire, and then the drums proceed to toll as the hour of your gruesome demise draws ever closer. Then throw all that together with years upon years and several experimentations in other projects, and you have a death metal record of an entirely different caliber with "Land of Weeping Souls".
I've come across hundreds upon hundreds of death metal acts in my time as a metal head, but there's only one Paganizer. It was clear from the very first time that I heard this group that there was something special about them even though they didn't f**k with the classic formula for their genre in any way, and that's one of the reasons why I kept a close eye on them. Thank all that is unholy because that worked out splendidly! "Land of Weeping Souls" is without doubt one of the most premium death metal experiences that we've seen so far this year, and it's going to be a true challenge to try and top this. The bar has been set, and I have a sneaking suspicion that Paganizer will somehow outdo themselves yet again if given the opportunity.
"Land of Weeping Souls" releases on August 1st via Transcending Obscurity Records! You can listen to four advanced tracks on Bandcamp here.
Track Listing:
Your Suffering Will Be Legendary
Dehumanized
Forlorn Dreams
Land of Weeping Souls
The Insanity Never Stops
Selfdestructor
Death Addicts Posthumous
The Buried Undead
Soulless Feeding Machine
Prey to Death