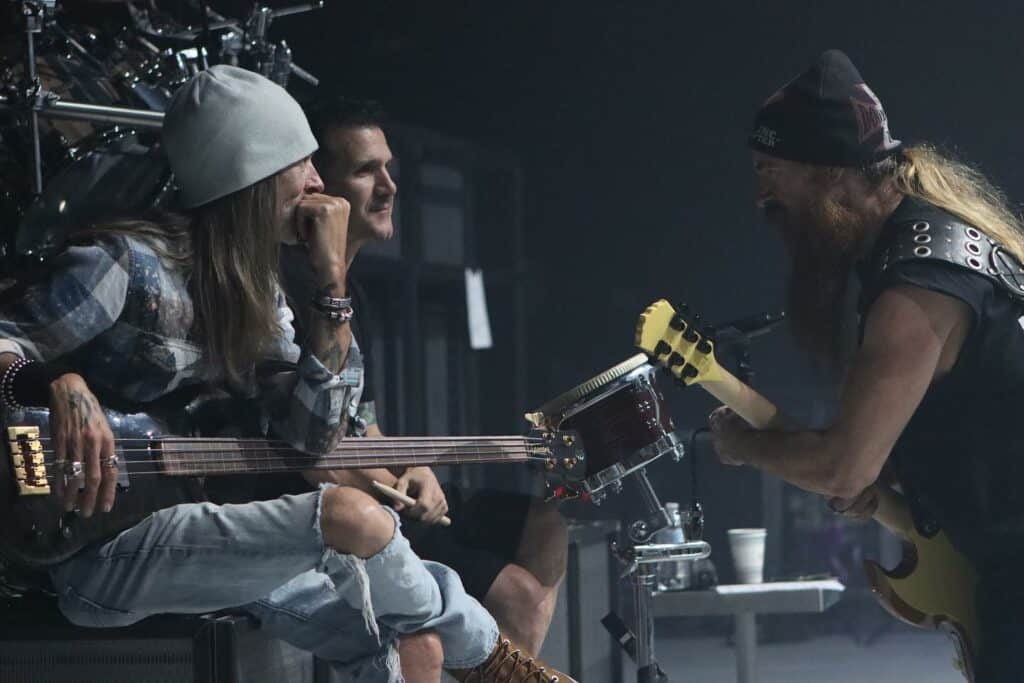 PANTERA has added nine more shows to their European dates for 2023.
PANTERA surviving members, Philip Anselmo and Rex Brown, reformed the band with Zakk Wylde on guitar (from OZZY OSBOURNE and BLACK LABEL SOCIETY) and Charlie Benante on drums (from ANTHRAX). They will be playing at festivals all over North America, South America, Europe as well their own headline concerts.
According to Billboard, the lineup has been given a green light by the estates of the band's founders, drummer Vincent "Vinnie Paul" Abbott and guitarist "Dimebag" Darrell Abbott, as well as Brown, who last year said Wylde wouldn't tour with PANTERA if a reunion were to happen. It's unclear what changed his mind.
Newly added shows
May 26 – Sofia, Bulgaria – Armeets Arena
May 27 – Bucharest, Romania – Metalhead Meeting Open Air Festival
May 30 – Budapest, Hungary – Barba Negra
May 31 – Vienna, Austria – Gasometer
Jun. 05 – Lodz, Poland – Atlas Arena
Jun. 12 – Prague, Czech Republic – O2 Arena
Jun. 13 – Berlin, Germany – Verti Music Hall
Jun. 15 – Copenhagen, Denmark – Copenhell
Jun. 21 – Hamburg, Germany – Edel Optics
Confirmed PANTERA shows so far
Dec. 02 – Texicoco, Mexico – Hell & Heaven Metal Fest
Dec. 06 – Monterrey, Mexico – Monterrey Metal Fest
Dec. 09 – Bogotá, Colombia – Knotfest Colombia
Dec. 11 – Santiago, Chile – Knotfest Chile
Dec. 12 – Santiago, Chile – Movistar Arena
Dec. 15 – São Paulo, Brazil – Vibra São Paulo (with JUDAS PRIEST)
Dec. 18 – São Paulo, Brazil – Knotfest Brazil
May 26 – Sofia, Bulgaria – Armeets Arena
May 27 – Bucharest, Romania – Metalhead Meeting Open Air Festival
May 30 – Budapest, Hungary – Barba Negra
May 31 – Vienna, Austria – Gasometer
Jun. 2-4 – Nürburgring, Germany – Rock Am Ring
Jun. 2-4 – Nürnberg, Germany – Rock Im Park
Jun. 05 – Lodz, Poland – Atlas Arena
Jun. 10 – Sölvesborg, Sweden – Sweden Rock Festival
Jun. 12 – Prague, Czech Republic – O2 Arena
Jun. 13 – Berlin, Germany – Verti Music Hall
Jun. 15 – Copenhagen, Denmark – Copenhell
Jun. 21 – Hamburg, Germany – Edel Optics
Jun. 22-24 – Oslo, Norway – Tons Of Rock