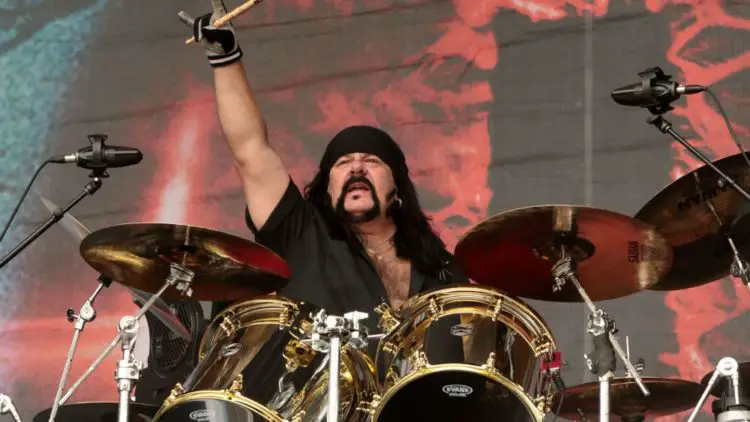 The official Pantera site, Pantera.com, have shared the below tribute to the band's late drummer Vinnie Paul Abbott  who died this past Friday, June 22nd. A public memorial for Vinnie Paul will be held this Sunday, July 1, at Bomb Factory in Dallas, Texas. Fans interested in attending "Vinnie Paul: A Public Celebration Of Life" must receive a wristband to enter the Bomb Factory. The line for wristbands will begin at noon outside the venue prior to the 3:33 p.m. memorial. The event announcement notes: "There are no advance tickets, lines or lists."
The tribute was penned by a longtime friend of Vinnie and PANTERA, journalist/writer/ex-GRIM REAPER guitarist Nick Bowcott. You can read his tribute below:
"Black days in the already dark domain of metal have regrettably become far too common of late. Friday, June 22, 2018, is sadly another such day, as on it we lost one of heavy metal's most talented and influential drummers of all time: the pioneer of Pantera's patented Power Groove — Vinnie Paul Abbott.
"Drummers often invariably get the short end of the stick (awful pun unintentional — but it's staying, as it's pretty apt), as do bassists. Why? Because the vocalist and lead guitarist get the spotlight. In truth though — drums and bass are quite literally the foundation of any great band or song as they can make or break a riff or passage. A great guitar riff will inspire you to make your "metal face," but ultimately, it's the rhythm section that will bang the head that won't bang and incite a mosh pit. Like I said: Make or Break…
"That's why rock drummers such as John Bonham, Keith Moon, Neil Peart, Bill Ward, Mitch Mitchell, Charlie Watts, and Alex Van Halen are rightfully considered legends. They didn't just keep time and create a beat — they literally drove songs to new levels of intensity, light, shade, and groove.
"Vinnie Abbott was (damn — the use of the past tense here is heart-wrenching) such a drummer and a high-ranking, much respected member of the aforementioned elite few.
"Simply put — what made Pantera such a groundbreaking, timeless, and influential band was the combustible combination of the four members: Dime, Philip, Rex, and Vince. As Aristotle's age-old adage states: "the whole is greater than the sum of its parts" — and Pantera was living, fire-breathing proof of this undeniable but uncommon truth.
"The recipe was delightfully simple: take Dime's brilliantly brutal yet catchy riffage; mix in Rex's carefully crafted low-end rumble; sprinkle Philip H. Anselmo's angst liberally over the top; then place this trio over a thick, rich base built from Vinnie's pummeling precise drumming…and "Hey-Presto": the POWER GROOVE IS BORN.
"I had the amazing privilege of watching Pantera grow from the ground up…from dingy clubs and bars in Texas to theatres, then stadiums and arenas, right up to dominating massive festival stages all over the world. I was also fortunate enough to see them not only pummel all over America but also in England and even in Tokyo, Japan.
"My Tokyo experience was 333% Pantera! I literally got off a 14-hour plane ride, went straight to the venue, drank WAY too many Dime-poured Black Tooth Grins in Grady "Grand Dragon" Champion's guitar world, before being dragged onstage to do backing vocals on, of course, "Walk." Unforgettable. Unrepeatable. Priceless….
"My first brush with Pantera was in 1985 on Grim Reaper's Fear No Evil tour during the Terry Glaze era when they opened for us in Texas. I was blown away by their performance, and Dime gave me a cassette tape (remember those?) of Projects in the Jungle. I still have it, and it still rules.
"Then, in 1987, on the Hell on Wheels tour, I stage dived and landed on this pretty intimidating but amiable dude…his name was Philip H. Anselmo, and we enjoyed a post-show herbal cigarette. He'd recently moved to Texas to join Pantera — as Walt Disney's annoying tune states: "it's a small world, after all." Sadly, it's growing smaller. Anyway, back to the tale…
"Then, Reaper's management (hi Walter, hi Bob, hi Kimberly) signed Pantera; then there was all the Guitar World stuff with Dime (numerous articles, 64 columns, the Riffer Madness book, yadda, yadda). Suffice to say, I spent a lot of time with Dime and the band. This also continued with Dime and Vinnie when Pantera fragmented and the criminally overlooked Damageplan project was born.
"During that entire period, though, while I knew Vinnie, we didn't really talk that much — apart from the usual, "Hey, nice to see you again" type stuff. Why? Because I was always with the human whirlwind, Dimebag, of course — he was the consummate host and redefined the term engaging.
"Then came one of metal's darkest days: Wednesday, December 8, 2004….
"Prior to flying to Darrell's funeral and public memorial service, I called Vinnie to express my profound sorrow and condolences. As expected, given the heartwrenching circumstances, the phone wasn't answered by him, so I simply asked if my best wishes and love could be passed on. As soon as I said my name, though, I was told: "Vince was hoping you were going to call; he'd really like to talk to you." It was in the lengthy, tear-inducing but beautifully moving conversation that followed where our relationship went from acquaintances to true friends.
"While the funeral and the public memorial were, of course, understandably somewhat somber at times, our goal was to celebrate Dime's remarkable life, and that was achieved in spades. Jerry Cantrell, Eddie Van Halen, Zakk Wylde, Maynard Keenan, members of Anthrax, Disturbed and others paid tribute from the stage and impromptu performances.
"The graceful, gregarious generosity, bravery, brotherhood and sisterhood I witnessed at both events was life changing — especially from Vinnie, his and Darrell's father Jerry "LD" Abbott, Rita, Grady, John (a.k.a. Kat), Sterling, Wirez, Chris (a.k.a. Crusher), and the man who redefines "work ethic" Mr. Guy Sykes. It was deeply moving. The fact that Vinniewas able to wear his trademark smile despite his palpable pain was far beyond touching.
"I had the unbelievable experience of playing with Vinnie at a couple of Dimebashes — we did "This Love" and also a couple of Kiss tunes with Ace freakin' Frehley on lead. Believe me — hearing VP's power groove is one thing, but literally riding on its gigantic sonic wave when playing with him is a whole, er, new level. Unforgettable, unrepeatable, priceless moment #333.
"I got invited to Memphis, Tennessee, during Elvis Week with LD, Vinnie, and Bridog (my friend — I'm so very sorry). It was an amazing few days of bonding and fun that included a tour of Sun Studios and, of course, Graceland: home of Elvis.
"And 2006 was also the bearer of more great news — the world would once again get to hear and see Vinnie's peerless drumming driving his new band, Hellyeah. Can you say "celebration"? The news of VP's return to the studio and stage caused a global tsunami of triumphant celebration in the metal realm.
"Since forming, Hellyeah has toured extensively and released five critically-acclaimed and fan-loved albums. Alongside Vinnie – Chad Gray (vocals) and Tom Maxwell (guitar) have been at the core of the band since day one. Hellyeah – completed by Kyle Sanders (bass) and Christian Brady (guitar) – was working on album No. 6 when this tragedy occurred.
"Vinnie's remarkable drumming talent is well known; what is maybe less well known is this: behind his larger-than-life onstage presence and muscular (he hit those freaking skins hard) yet musical drumming was a kind, gentle, generous,
and funny guy with an infectious smile and a heart the size of Texas.
"Vinnie's kindness and generosity helped make a difference for many. Since he was as humble as he was thoughtful, though, he never made a big deal about such amazing acts…to him, helping others was just "the right thing to do."
"But 54 is young, way too freaking young…if there is any collateral beauty in this soul-crushing, tear-stained loss, it is this…
"After nearly 14 years apart: Vinnie and Dime are finally together again in an even better place. Their last words to each other on this planet were "Van Halen" (their code for having a kickass show). I know they're in God's Tavern (© Zakk Wylde) right now, clinking their glasses while exclaiming "Van Halen" in unison and both sporting THOSE grins.
"To close — my thoughts, prayers, best wishes, and broken heart are with Vinnie's family, bandmates & friends…and especially Jerry "The Eld'n" Abbott.
"Vincent is preceded in death by his mother, Norma Carolyn Abbott, and his brother, Darrell Lance Abbott. He is survived by his father, Jerry Abbott, of Arlington, Texas, his loving partner, Chelsey Yeager, of Arlington, Texas, his right hand man and constant companion, Charles "Bridog" Jones of Arlington, Texas, numerous aunts, uncles, nieces, and nephews, friends too numerous to mention, and millions of fans worldwide.
"Vinnie — thank you for the music, the many indelible memories, and your Gentle Spirit. Big Luv, my dear friend…Big Luv, always.
"REST IN PEACE & please say "hey" to Dukebox Damage, for me.
"–Nick "Hitchcock" Bowcott
"During Pantera's blazing run of successes, the band was nominated for four Grammy Awards, all in the "Best Metal Performance" category:
"I'm Broken" (1994 – Far Beyond Driven)
"Suicide Note Pt. 1" (1996 – The Great Southern Trendkill)
"Cemetery Gates" (1997 – Cowboys From Hell)
"Revolution Is My Name" (2000 – Reinventing the Steel)
"Vinnie did not have one favorite charity. His generosity was spread widely between his friends and strangers. If you'd like to make a donation in Vinnie's name to your favorite charity, please do so."