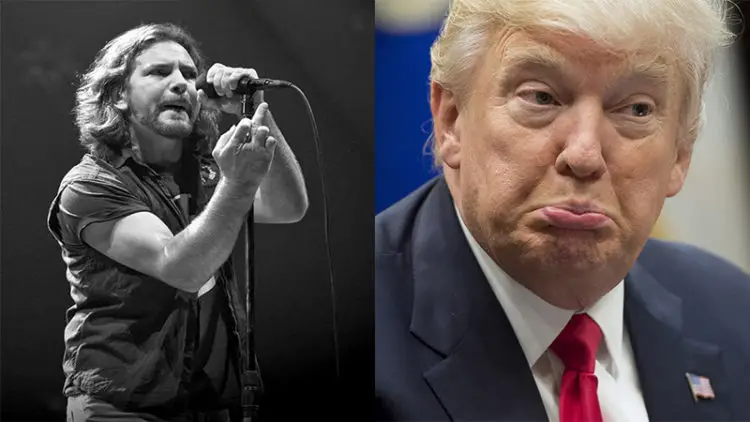 PEARL JAM shared the poster of their recent Rock to Vote show in Missoula, MT, featuring the White House on fire and skeletal remains of US President Donald Trump.
The poster was created by bassist Jeff Ament and artist Bobby Draws Skullz, and also features Montana congressional candidates Senator Jon Tester and his Republican opponent Matt Rosendale.
KGVO reports that a Rosendale Campaign spokesman shared a comment on the poster, saying:
"The depiction of the skeletal remains of President Trump and a burning White House is reprehensible and shows just how completely unhinged and radicalized the far-left has become."
Rosendale himself wrote on Twitter:
"This poster from Pearl Jam is disgusting and reprehensible. It depicts a dead President Trump and a burning White House. It's time for Jon Tester to denounce this act of violence and blatant display of extremism!"
Pearl Jam also shared a handwritten note from Ament, which reads:
D.C. Burning Tester Evel Knievel on Tractor…
Over The Cesspool Below
Russian Money, Golf courses, Hookers?
Maryland Matt Stars N Strips As Flames
Y'all Know The Deal, We're at a Tipping Point, And Its Time For Action.
Jon Tester is the Real Deal and Nobody cares More About our Country And Especially Montana.
So Here We Are…
This was a Fun Collab With One Of My Favorite Artists, Bobby Draws Skulls.
He Killed It! -Jeff Ament
You can see the poster below.