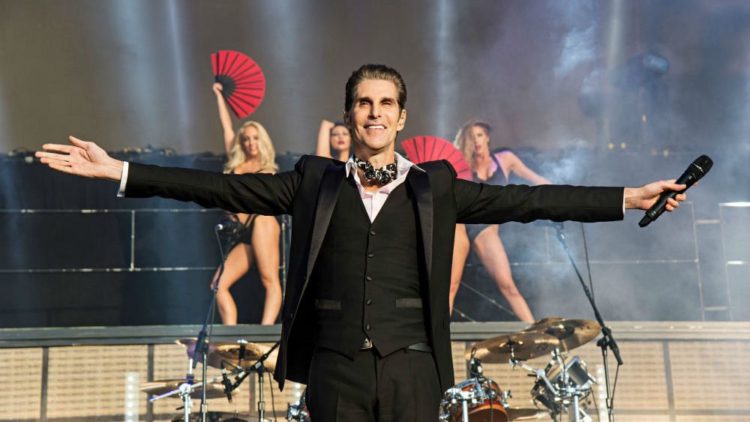 In a recent interview with "Q", the Canadian arts magazine show produced by and airing on CBC Radio One, JANE'S ADDICTION frontman Perry Farrell talked about the role of artists is in speaking about things and trying to change things if they see problems in the world.
He said (see video below): "Well, we are great messengers, and we have great platforms today to spread the message… But I think there's nothing better… This is why I'm going to the small venues initially [on my current tour], so I can see people eye to eye and soul to soul. You can see me, you know who I am, and you can see exactly what I'm about. There's no photo retouching. It's like a sporting event — this is life or death right here. And if you really want to spread the message, you've gotta do it the oldest way, and that is reach out and touch people and look in their eyes and let them know you."
He added: "This is no time to keep you mouth shut. This is a time when we've gotta express ourselves. The artists need to express themselves and not hold back, because we are all… There's this universal hard drive that contains all of our collective emotions and feelings, and we're all… And then today we have this beautiful thing, the Internet, where we can reach out and quickly say, 'This is going on,' and, 'This is how I feel,' and, 'This is a good thing.'
"So, I think that… the silence? No. Be silent when you're down by a creek and you have a picnic basket near you, so you can hear the crickets. But with all this going on, this insanity, with these rich men trying to just organize and swipe the world away from us, now is not the time to be silent."
Former SKID ROW singer Sebastian Bach recently said that he would do a better job of running a country than Donald Trump.
Bach made his claim in a July 8 Twitter exchange with noted practical joker Captain Janks, who wrote: "2016 was truly the worst time for American voters. What choice did we have? Trump or Hillary [Clinton]. Two hacks without an ounce of integrity."
Bach responded: "One is actually a politician for a living. The other hosted a reality TV show. The choice seems pretty clear to me"
After one of Sebastian's followers chimed in with "Sebastian, you could do a much better job," Bach came back with: "I'm actually not running for president I'm perfectly happy playing music for a living. An actual politician would do a much better job at running the country then somebody who has never been a politician before. Is this so hard to grasp for you?"
When the same person responded, "Sebastian, I was joking. I understood your tweet just fine." Bach wrote back: "Understood. actually, having said that, I would do a better job. After all my reality TV shows were better than his reality TV shows so that makes me automatically more qualified"