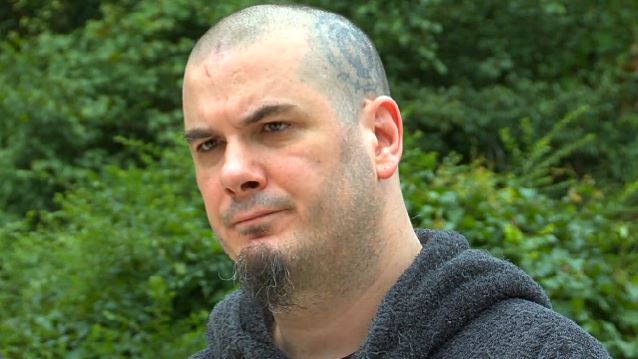 In a new interview with Revolver magazine, former PANTERA and current DOWN singer Phil Anselmo was asked to single out his favorite METALLICA song.
"[METALLICA's 1983 debut] Kill 'Em All was a favorite — loved it, wore it out on cassette," Anselmo responded. "My favorite METALLICA song — I guess it was featured on a compilation record, it might have been Metal Massacre, I don't remember – but it was [1984's] 'Creeping Death.'
"That's my favorite METALLICA song, man," he continued. "It's a heaving masterpiece! Oh God, the whole ending, 'Die, by my hand' – geez! A huge, huge song with a pummeling roof! They got those guitar tones translated onto vinyl first – you know, vinyl and tape — they got that crunch.
"It was so powerful to hear that chunk and, you know, that chunk — the history of that chunk I can look back and Randy Rhoads had his own little sound, absolutely, that was great…
"Eddie Van Halen had an explosive guitar sound, but METALLICA played with the chunky picking hands, you know? METALLICA really got the crunch and then most bands fell in, they were like, 'We need that crunch.' And that helped to define the sound of heavy metal even to this day."
SCOUR — the extreme metal supergroup featuring Philip H. Anselmo (PANTERA, DOWN, EN MINOR), John Jarvis (AGORAPHOBIC NOSEBLEED), Derek Engemann (PHILIP H. ANSELMO & THE ILLEGALS), Mark Kloeppel (MISERY INDEX), and Adam Jarvis (PIG DESTROYER, LOCK UP) — will release their long-anticipated The Black EP on Black Friday, November 27th.