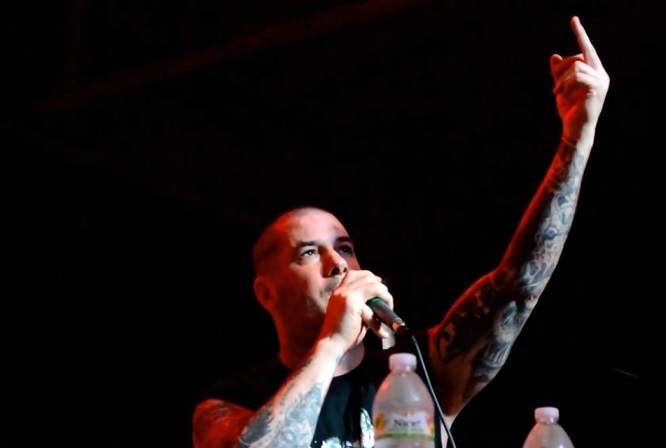 Former PANTERA and current DOWN/SUPERJOINT RITUAL/SCOUR frontman Philip Anselmo took part in a special 60-minute interview and 30-minute question-and-answer session on June 26 at the Diamond Pub Concert Hall in Louisville, Kentucky.
Decibel Geek TV has uploaded a short video from the interview in which Anselmo recalled touring with some of the biggest names in heavy metal, including the Ronnie James Dio-fronted version of BLACK SABBATH. He said: "This is why I say I f*cking hate rock stars, because when I see some a—shole rock star walking around, strutting around like they wrote a song or something… It's, like, 'A—shole, motherf*ckers write songs in their bedroom.
"What makes you different? You cannot walk ten feet in someone else's goddamn f*cking shoes. Come back down to earth, you f*ckhead. I've met and I've hung out with Lemmy Kilmister. I've known Lemmy, I've known Dio, I've known Ozzy, I've known Tony Iommi, Geezer Butler… You keep fu*king going. I've known 'em. I've spent time with 'em. And you know what? They're the nicest, the most down-to-earth people I've ever f*cking met.
"So ladies and gentlemen, let's have a unanimous bird finger to rock stars.
"If any motherfu*cker in a band ever struts past you [with an attitude], give 'em the old f*cking bird finger from The Kid. F*ck those a—sholes, man. F*ck 'em! You've gotta be real. And it's so much easier to be a dick, [and] it takes effort to be nice to everybody, but you know what? It pays f*cking off to sit, listen, talk with people, be real as f*ck with people, because in today's world, the motherf*ckers hide behind fake names in comments sections and f*ckin… et cetera, et cetera, et cetera.
He added: "You're puss—es. Face the f*cking face. It's always a whole different f*cking story. And to tell you the truth, most people I meet — and I mean, like, ninety-nine-point-motherf*cking-nine percent — are down to earth, cool and f*cking awesome, and I love 'em."
Anselmo's new supergroup called SCOUR featuring PIG DESTROYER's John Jarvis, CATTLE DECAPITATION's Derek Engemann, CONTINUUM's Chase Fraser, and STRONG INTENTION's Jesse Schobel–will release its new self-titled debut on July 15 via Housecore Records.