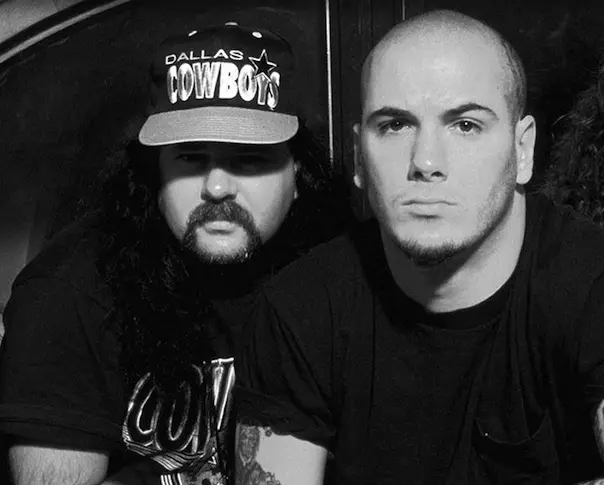 Former PANTERA singer Phil Anselmo made brief remarks at the public memorial for his former bandmate, drummer Vinnie Paul Abbott, via video. It marked the first time Anselmo publicly commented on Vinnie Paul's death. The memorial took place at Bomb Factory in Dallas, Texas, included emotional tributes from a number of Abbott's fellow musicians, some of whom appeared in person while others were via video like Anselmo.
Anselmo's tribute was a few seconds long and saw him speaking in his trademark deep voice. "Vince, always have love in my heart for you, man," he said (see video below). "Rest in peace."
The PANTERA and HELLYEAH drummer was buried on Saturday (June 30) next to his brother, PANTERA guitarist "Dimebag" Darrell Abbott, and their mother, Carolyn, at Moore Memorial Gardens Cemetery in Arlington, Texas. He was laid to rest in a custom "Kiss Kasket" provided by KISS members Gene Simmons and Paul Stanley. The casket was offered as a gift at Vinnie's family's request. Vinnie was also buried in some of his trademark clothes, including his hat, shoes and flannel.
Vinnie Paul and his brother "Dimebag" Darrell Abbott co-founded PANTERA. When PANTERA broke up in 2003, they formed DAMAGEPLAN. On December 8, 2004, while performing with DAMAGEPLAN at the Alrosa Villa in Columbus, Ohio, Dimebag was shot and killed onstage by Nathan Gale. He was 38 years old.