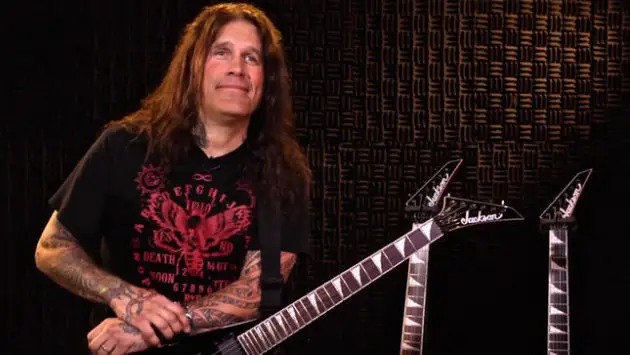 Former MACHINE HEAD and VIO-LENCE guitarist Phil Demmel has commented on being tapped to fill-in for Gary Holt on the remainder of Slayer's ongoing European leg of their farewell tour.
Last night, Holt revealed in a statement that he will be heading home to be with his dying father.
Demmel posted the following message about this opportunity: "Full circle. Karma. It's so crazy how things work out. I got a text less than 24 hours after I played my last MH note. 11 years ago (almost to the day), I had to leave a tour to fly home and be with my family when my father passes away. Some amazing dudes stepped in to cover for me and to help the band out. I am filling in for a legend who was replaced a legend in a legendary band on their farewell tour.
"Despite the fact that SLAYER is the reason I wanted to play heavy music, it's beyond my utmost honor to asked to do this. Learning 19 songs (Not just songs, SLAYER songs) has been a daunting task and I have worked very hard to do Gary and the entire camp proud. As we all here send our love and support to Gary as he goes through a life altering time, the rallying this camp has done is amazing.
"Thank you all for your support as I grab the baton for a few shows and fly the Bay Area flag high on stage right. And lastly, the biggest hero is Marta [Phil's wife] for being so selfless after having her partner home for 2 days, sends him off to follow this crazy dream. All hail the Queen."
Remaining dates on that run are as follows:
Dec. 3 – Copenhagen, DEN – Royal Arena
Dec. 5 – Stockholm, SWE – Hovet
Dec. 6 – Oslo, NOR – Spektrum
Dec. 7 Helsinki, FIN – Helsingin Jäähalli