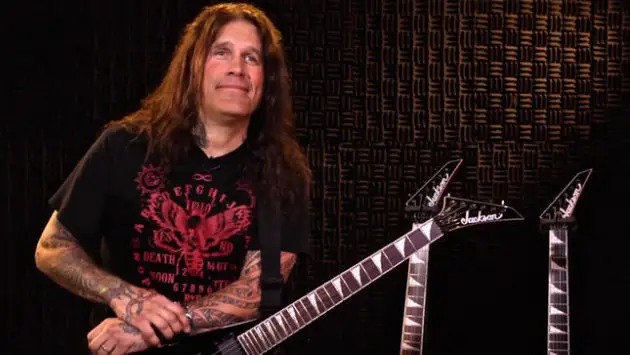 Two days ago, we posted an interview with Talk Toomey in which Phil Demmel talks about his departure from MACHINE HEAD where he said that the band became a Robb Flynn solo project.
Now, in a brand new interview with Jose Mangin of SiriusXM's Liquid Metal, Phil elaborated on his reasons for departing MACHINE HEAD after a 15-year run.
"It was a hard decision and it was a big deal to do, but it's opened all these things," he said. "'Cause it was a pretty tight grasp in MACHINE HEAD. There's a lot of things that I couldn't do."
One of those reasons was that Demmel wasn't allowed to speak to the press:
"There was a point where we were taking liberties and still doing [interviews]," Phil said. "It got to be where the talks that came along with it, it was unbearable. It was just like, 'Man, I'm punching the clock here. I'm gonna show up. What songs do you wanna play? Okay. Cool. We're gonna play the songs. When are the dates? Okay. Cool.' For the last cycle, it was the paycheck. That was my living. I didn't like my job anymore."
On the musical side, Demmel says that things took a sharp turn for the worse during the writing stage for MACHINE HEAD's latest album, 2018's "Catharsis".
"After the initial writing started for this record, it seemed — in my opinion — that there was an agenda for how this record was gonna go and how it was gonna sound," Phil explained. "I had brought in a pretty burning-fast song that me and Dave [McClain, drums] were really feeling… It was a burner. It was fast and kind of thrashy. And it was kind of said that, 'Hey, we're not gonna play fast on this record. It sounds too metal.' So I went on a Christmas break and I came back and some parts of that song were put into another song now. And it's, like, 'I guess that song's gone now.' [He was] pilfering riffs for this other tune that I didn't care for much. And that's kind of how the writing went, man."
According to Phil, the decision to take a different musical approach stemmed in part from the success of "Is There Anybody Out There?", the 2016 standalone MACHINE HEAD single which included lines that were a commentary on the "white power" gesture Philip Anselmomade onstage several months earlier. Shortly after Anselmo's "Dimebash" video went viral, Flynn uploaded an eleven-minute video response to the incident in which he called Anselmo a "big bully" and described Philip's behavior as "f*cking wrong."
Demmel said that he didn't approve the way the Flynn handled the entire situation:
"I can only speak for myself in that sense, and I had my own thoughts that were different than Robb's. And I had hoped that he would have called [Philip]."
He continued: "I don't know how much I wanna go into the details of what happened before. But that was a point of contention between me and Robb too. But a lot of that stirred from that and that kind of maybe split the band in a direction that all of us weren't going. And from that point on, it was 'Is There Anybody Out There?' And I was never on board with that song. But he went with it, and I think it kind of started a trend towards… especially after, I guess, it really exploded on Spotify, so it was getting a bunch of hits, and, 'Hey, this is working,' and, 'This is what we're doing now.' I think that's the point where we became more of a solo project than a band."
Phil also said that his mental health was negatively affected by MACHINE HEAD's decision to forgo the usual festival circuit and instead play its own "An Evening With…" shows, with no support bands and performances often lasting two and a half to three hours.
"We weren't doing festivals anymore," he said. "We weren't playing with other bands anymore. It was three hours of us, and it was close to four years of just us living in this bubble. And you can't talk to anybody. I wasn't allowed to do press towards the end; it was only Robb being able to talk. And you start living in this bubble with the same 11 people. I'm extremely claustrophobic. But then you're living in a vacuum. And you kind of forget about it… You look outside the bubble and you go, 'Oh my God! What was I dealing with?' 'Cause you're in the bubble, but once you step outside it and you look at everything that was going on and everything you were taking, and it's for money. And then you just can't put a price on that."
According to Demmel, he was also made to feel that his guitar-playing abilities weren't up to par, which caused him to have a lot of self doubts for much of the latter part of his tenure in MACHINE HEAD.
"Towards the end, I didn't feel that I was good enough to be in the band," he said. "[There was] a lot of criticism, a lot of scrutiny… But it made me really cognizant of, 'Man, I need to be a better player.' And it never relieved. So by the end, there was this whole thing, 'Man, am I worthy? Where's my self worth? How good am I? Am I a piece of sh*t?'"
Demmel said that he eventually decided to quit MACHINE HEAD after spending "many stressed-out nights" talking with his wife and occasionally "losing sleep" over everything that was going on with the band. "And it just got to the point to where I [couldn't] do this anymore," he explained. "It's unhealthy for me physically, it's totally unhealthy for me mentally, and it's taking its toll on my family now, and there's where I've gotta draw the line," he said. "This isn't fun, and I've gotta quit my job. And there was a straw that broke the camel's back. And I won't get into that, but once it went down, I just drove straight to [Robb's] house and called him up on the way out. And I vented to the management on the way, and [the manager] was trying to talk me out of it: 'Just give it some time.' But by the time I got off the phone with him, I was outside Robb's house and we sat in my [car] in front of it, and I told him. And at the end of it, I said, 'Thank you.' It was a cool conversation. But I told him, 'Thanks.' He could have got anybody to play in the band [back in 2003], and he went my direction. So it was something that I am grateful for. And I think he deserved that — he deserved to be thanked for that. 'Cause I am grateful for that."