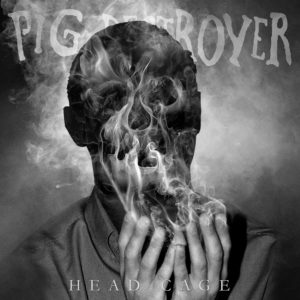 Outrageous rage. Unmeasured wrath. Free musical violence. If hardcore could ever evolve, I'd say it had with Pig Destroyer. Don't get me wrong, guys, but hardcore has been the same for almost thirty years, while Metal, the beast that refuses to die and not the apple of the eyes of the media, has evolved at large. But which one would you say is named as dinosaur? If you said hardcore, you are flat wrong.
"Head Cage" has lots of modern touches in it without loosing its connection with a pure and violent hardcore, or at least extreme music. Many forget that hardcore is the core and essence of extreme music. Pig Destroyer are one of the very few bands which managed so well to try to renew the style. Songs like "House of the Snakes" bring a complexity and at the same time a virulence that gets one to stupefaction. Jawbreaking tune for a jawbreaking band whose power and cruelty are a guarantee to get to them to a deserved place in extreme music pantheon.
The opening track for "Head Cage" is the one-minute free punch "The Tunnel under the Tracks" with an angry and ferocious voice lead by groovy – is that right? – guitar lines. Yeah, it is. Pig Destroyer are masters in the art of creating a violent groovy atmosphere. The groovy we all like. A courtesy of Dimebag Darrell and Pantera.
There are 12 tracks within the two-minute average, except "House of the Snakes" with seven minutes because Pig Destroyer would rather write hardcore pieces and extreme metal pieces. Of course, it's not a rule, "Concrete Beast" mix both in an insane ride through the world of extreme music.
Pig Destroyer are a band for you who believe hardcore can evolve, and both for you who think extreme music is also evolving. Fast.
Pig Destroyer "Head Cage" was released on September 07th via Relapse Records.
Track Listing:
The Tunnel under the Tracks
Dark Train
Army of Cops
Circle River
The Torture Fields
Terminal Itch
Concrete Beast
The Adventures of Jason and JR
Mt. Skull
Trap Door Man
The Last Song
House of the Snakes
Watch "The Torture Fields" official video here: