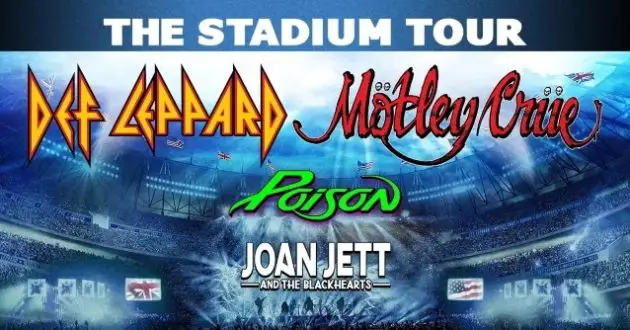 In a new interview with Arizona Republic, POISON frontman Bret Michaels provided an update on the status of "The Stadium Tour" featuring MÖTLEY CRÜE, DEF LEPPARD, POISON and JOAN JETT & THE BLACKHEARTS.
When interviewer noted that his next appearance in Arizona is at the State Farm Stadium, Bret replied: "At the moment, we don't know. That answer is confirmed. We don't know. The health is number one. The health of the fans. The band's crew. The people working at the venues. The first responders.
"That comes first. And if the CDC [Centers for Disease Control and Prevention] says it's a go? I will be there, ready to rock," he continued. [And if not], then it's not over. It's just postponed. Those dates have almost all completely sold out. We added a second night at Fenway. I think Jacksonville went quick. Milwaukee was the quickest sellout they ever had. It was like 43 minutes."
While the official announcement is yet to be revealed, Bring Back Glam! recently reported that the July 2nd date at Cincinnati, Ohio's Great American Ball Park and the August 28th date at Chicago, Illinois' Wrigley Field have been officially announced as postponed.
Fans who purchased tickets to those dates received e-mails announcing the postponement.
During a recent appearance on SiriusXM, Joan Jett was asked how she feels about the prospect of playing stadium shows during the coronavirus pandemic.
"I would not feel comfortable doing that — I just wouldn't," she responded. "I wouldn't feel comfortable putting the band or my crew in that position. I don't really have that right to mess with their lives like that.
"I'm not saying it's an easy decision. I know people are struggling all over the country with what to do and how to do it. Of course I wanna play. As soon as we can do it, let's figure out a way to do it.
"I've heard there's some ideas with drive-in, like a drive-in movie, where you can still see live music and you're in your car," Joan continued. "That's a step, and that's a step I'd enjoy taking. But it's still not people together. And that's gonna take a while.
She added: "When people feel safe to be together, I would hope that we'll all feel the same way. I can't make decisions for other people as well. If things are safe, I would be into it. But, obviously, that means testing and all that stuff. And I have had my tests. But you've gotta keep doing it."