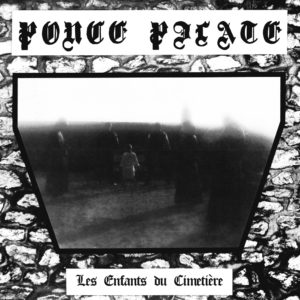 Ponce Pilate with "Les Enfants Du Cimetiere" (The children of the cemetery) are such a grateful surprise. It took exactly 32 years to "Les Enfants Du Cimetiere" receive a decent production and release. Thanks again to Mr. Bart Gabriel and No Remorse Records. Certainly it's too much time for such an effort. "Les Enfants Du Cimetiere" is the outcome of the duo Christian Dussuchal (Bass Guitar, Vocals) and Yann Parpeix (Guitar, Keyboards, Drums, Vocals).
There are a lot of words to say about Ponce Pilate, but none of them fits in easy. My man, such a difficult one to review. And I'll say why. Ponce Pilate is a very experimental band, and experimental bands are tough to review. Not easy at all to chose the right words. I guess the best definition for Ponce Pilate is: heavy music melting pot. This effort features a band that floats among experimental, progressive, hard rock and Heavy Metal. Ah, and some small dashes of blues and jazz. I guess because of that some songs are really strange to the ears like "Elle Blaise." But some as "Les Cloches De l'Enfer" are very pleasant to the years which reminds a bit Judas Priest from "Sad Wings Of Destiny" era. The title track, "Ponce Pilate," is the most progressive one with a lot of keyboards (and keyboard effects) and pianos. The outcome is nice and dazzling.
In short, it was no such easy task as to review Ponce Pilate because it isn't really an easy listening band, if you know what I mean. Songs are very defying and daring. I got that Ponce Pilate's intent was to care a lot about the musical aspects of "Les Enfants Du Cimetiere." There are songs such as "La Vierge De Fer" that are very well planned and executed. The instrumental is pleasant and, technically, very good. Everything worked fine as planned. But sometimes the outcome was a little strange. But that's part of the game of being experimental.
If you are ready to some defying and daring band, this band is Ponce Pilate for sure!
Track Listing:
Prologue
Imagine
Violence Et Faits Divers
Les Cloches De L'enfer
Laetitia
La Vierge De Fer
Ponce Pilate
Isthar Vandemm Et Gosthal
Morphine Queen
Les Anges De Balthazar
Elle Baise
Metamorphose
Ponce Pilate.
You can watch "La Vierge De Fer" here:
https://youtu.be/s-3vWcoxAl8