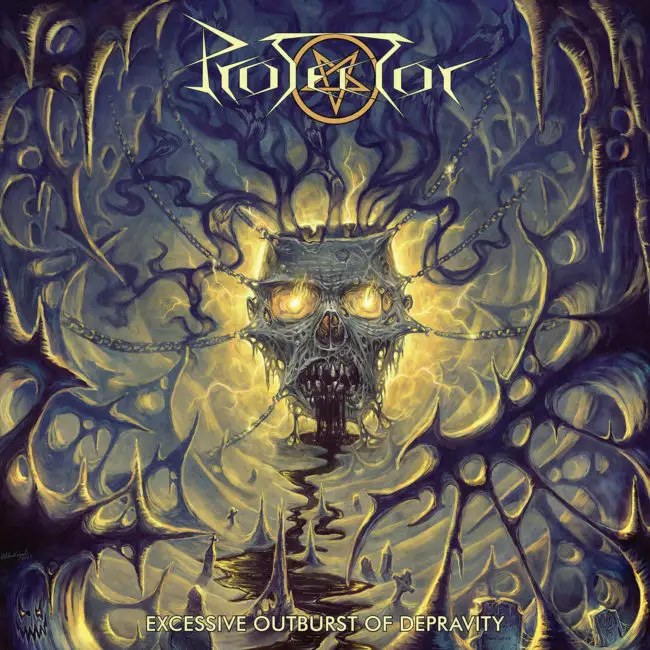 Here we've got an album that perfectly got the spirit of 1980's Blackened Speed Metal. Protector with "Excessive Outburst of Depravity" did a wondrous job in replicating the same sonancy bands as early Slayer, Venom and others had. If memory serves me right, I got the impression that Onslaught are a great influence. I remember to have heard it many years ago and now I see the resemblance. The band made such a wondrous album that is possible to see how Metal music evolved from it. Protector got a perfect musical picture from that time. If the fan don't pay close  attention the album passes as if body and soul from the 1980s. The album has some hidden and unexpected musical surprises. Those surprises tell that the band had a very careful research work and inpiration. Those little details make all the difference. As I said before, the devil is in the details. For instance, the guitar solo of "Cleithrophobia" is so amazing and so linked to Heavy Rock tradition that it inspired me.
My dera fan knows that when I fall in love with an album I say great things about it. "Excessive Outburst of Depravity" is an album that I could hear all the time. by now, it is the third time I'm listening to it to write those words. Interestingly, the more I like the album, the more difficult sometimes it is to write about it. I get the so-called writer's block. It happens. As I said before, the details showcases all the neat production the album had mainly in the guitar solos where guitarist Michael Carlsson uses techniques that are no longer used. The use of the pentatonic scales give the guitar solos that different sound my dear fan must have noticed. Album opener "Last Stand Hill" is a blast. The drums fillings at its initial seconds give the tone of the fast as speed of light cadence. The song is astonishing with a great and mesmerized guitar riffing that gives the fan the thrills. The kind of track that makes the fan immediately appreciate an album. The perfect change of mood fits as a glove as it serves as a bridge to the guitar solo. Following track "Pandemic Misery" follows the same path and there the fan will notice that something different in the guitar solos that I aforementioned. Interestingly, the technique guitarist Michael Carlsson uses here weren't that common in that transition time. Many guitarists were changing the pentatonic scales to the major scales which provided more speed to the guitar solos.
I had a great time listenting to "Excessive Outburst of Depravity." All the four times.
Protector "Excessive Outburst of Depravity" was released on July 01st via High Roller Records.
Track Listing:
Last Stand Hill
Pandemic Misery
Referat IV B 4
Open Skies and Endless Seas
Infinite Tyranny
Perpetual Blood Oath
Thirty Years of Perdition
Cleithrophobia
Toiling in Sheol
Shackled by Total Control
Morse Mania
Watch "Pandemic Misery" official lyric video here: