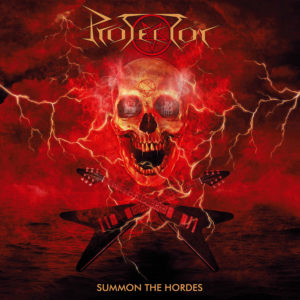 It is such a honor when we receive a band with a history as Protector and their 33 years of existence. I confess I didn't know the band, but fun fact is that when I first listened to them I felt that enormous nostalgia of the good old times when the world was milk and honey. Veteran bands have that special gift that makes them stand out from the crowd with "Summon the Hordes" which is the newest album from the teutonic Thrash/Death warriors after a while with a young and full of energy line-up. Albeit all the changes in line-up, and trends, Protector were able to survive and gift us with one quality effort.
In "Summon the Hordes" Protector teach the new generation a lesson on how to mix musical dextery, finesse, and class in a ten piece of carnage and aggression. Besides all the skullcrushing tracks with an excruciating vocal that makes you shiver, "Summon the Hordes" do have a musical packing that makes you travel through Metal guitar riffs and licks. Protector in "Summon the Hordes" chose to be faithful to the very first Thrash/Death traditions on having a very creative, and near to traditional Heavy Metal instrumental with a harsh and gritty voice. Once in a while it's possible to listen to a sharp and short guitar intervention to make things even more insane. Protector also makes a statement to the new generation that one doesn't have to be extremely complex to be good and violent. The extreme simplicity, and effectiveness of tracks as "Glove of Love," gives a great idea of Protector policy: to be violent with very little effort.
Albums as "Summon the Hordes" show us all the beauty that Metal provides us to allow veteran bands to still have an important role among new bands. Metallers are very dear to their idols, and that's one of the most important things about Heavy Metal.
Protector "Summon the Hordes" will be released on April 26th via High Roller Records.
Track Listing:
Stillwell Avenue
Steel Caravan
Realm of Crime
The Celtic Hammer
Two Ton Behemoth
Summon the Hordes
Three Legions
Meaningless Eradication
Unity Anthems and Pandemonium
Glove of Love
Watch "Three Legions" official video here: