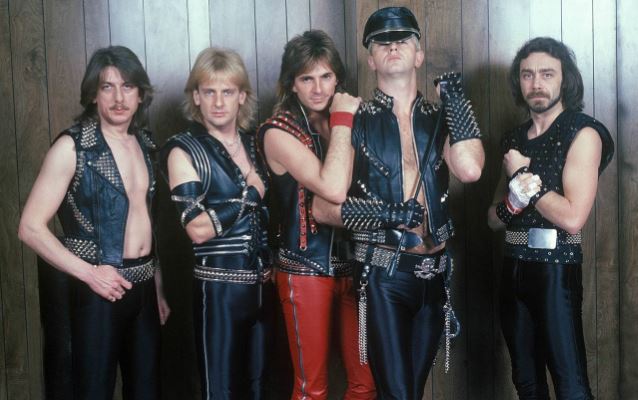 Protesters who stole New York Police Department (NYPD) radios reportedly played JUDAS PRIEST classic "Breaking The Law" over the NYPD frequency Thursday night (June 4).
According to the Twitter account US Protests: News & Updates, protesters managed to steal NYPD radios for the third consecutive night and opted to blast "Breaking The Law" classic as a way of taunting the cops. The same account managed to capture a soundbite of the disruption and tweet it out to the world.
PRIEST have recently announced rescheduled tour dates for its "50 Heavy Metal Years" European tour.
The trek, which was originally set to take place this spring and summer, has been postponed until 2021 due to the coronavirus pandemic which is sweeping the globe.
New dates are as follows:
May 28 – Helsinki Ice Hall – Helsinki, Finland
May 30 – Tallinn Song Festival Grounds – Tallinn, Estonia
Jun. 02 – Mystic Festival – Gdańsk, Poland
Jun. 04 – Palace Of Sports – Kyiv, Ukraine
Jun. 07 – Megasport – Moscow, Russian Federation
Jun. 09 – Yubileynyy – Sankt-Peterburg, Russia
Jun. 12 – Dalhalla – Rättvik, Sweden
Jun. 13 – Saab Arena – Linköping, Sweden
Jun. 16 – DNB Arena – Stavanger, Norway
Jun. 17 – Copenhell – København, Denmark
Jun. 23 – Rockhal – Esch-Sur-Alzette, Luxembourg
Jun. 24 – Schleyerhalle – Stuttgart, Germany
Jun. 26 – Rock The castle – Villafranca di Verona, Italy
Jun. 27 – König-Pilsener-Arena – Oberhausen, Germany
Jun. 28 – Zenith – Munich, Germany
Jul. 06 – Hallenstadion – Zürich, Switzerland
Jul. 07 – Jahrhunderthalle – Frankfurt Am Main, Germany
Jul. 09 – Peissnitzinsel – Halle, Germany
Jul. 10 – Masters Of Rock Festival – Vizovice, Czech Republic
Jul. 12 – National Tennis Center – Bratislava III, Slovakia
Jul. 16 – Faliro Coastal Zone Olympic Complex – Palaio Faliro, Greece
Jul. 18 – Midalidare rock – Mogilovo, Bulgaria
Jul. 20 – The Roman Arenas – Bucharest, Romania
Jul. 27 – Poppodium 013 – Tilburg, Netherlands
Aug. 11 – Bloodstock Open Air – Burton Upon Trent, United Kingdom