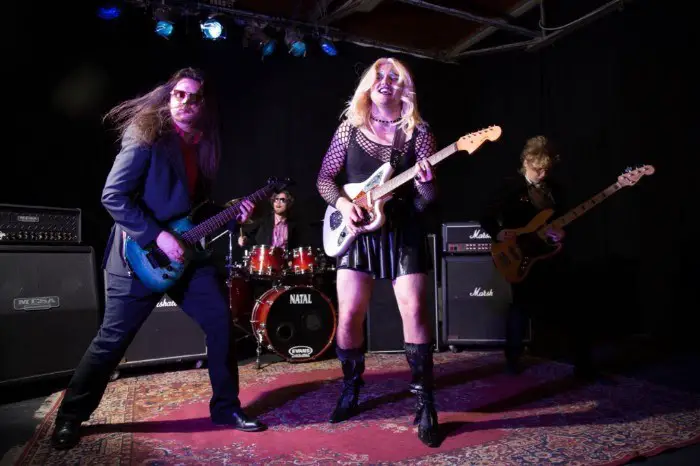 Dinosaurs and genre purists beware – 2019 is poised to be the year of Pterodactyl Problems. Reuniting a couple of years ago after a 5 year absence, the Torontonian quartet of musical lifers have put their heads together and crafted "Esoteric Hobbies," "probably the best musical project we've been a part of, and definitely the most collaborative". On a solid basis of indie-tinged heavy rock, their dizzying influences take form: blues, jazz and good ol' heavy metal, to name a few.
Each of the thirteen tracks brings a new flavor – "Alone in the Cold" and "Lush Lives" channel bass-heavy punk rock ancestry, while "Crazy" lives up to its name as it comes to a noisy, crashing close. There's also plenty of rock's bravado that infuse tracks such as "Heroes Killers" – a swagger that sets a groove that skitters all over the track. Lyrically, "the songs on "Esoteric Hobbies" speak about a lot of the confusion and pain around growing up dealing with serious mental illness, either in ourselves or others, but also the joy and growth that can be found in the multitude of experiences that make up our early life."
It's not all bashing and thrashing, however – "Heavy" is paradoxically not heavy as it winds its way through a chilled singer/songwriter vibe, as are the almost-acoustic trio that round out the record. These three evoke campfire singalongs and highlight the vocalist's gentler side as he croons over swirling melodies – though the latter half of "Pictures" reminds us that Pterodactyl Problems are a heavy rock band first and foremost. "Esoteric Hobbies" is nothing if not an eclectic listen.
Although Pterodactyl Problems claim "the band was formed almost by accident through the discovery of their unified passion for great music", their tracks ooze confidence and purpose no matter what they turn their hands to. Esoteric Hobbies is a remarkable feat for the rock world, a gem in Toronto's rich scene. "We are super proud of how this record turned out," says the band.
The band have already played packed shows, and their live performances are unforgettable – vocalist  Davey White has even been known to perform in drag while slinging his guitar. But regardless of the reason, Pterodactyl Problems will no doubt be leaving an indelible mark on fans and fans-to-be.
Pterodactyl Problems are:
Davey White: guitar and vocals
Jack Neila: guitar
Ciarán Neely: guitar and bass
Oliver Salathiel: drums
Read our review here.