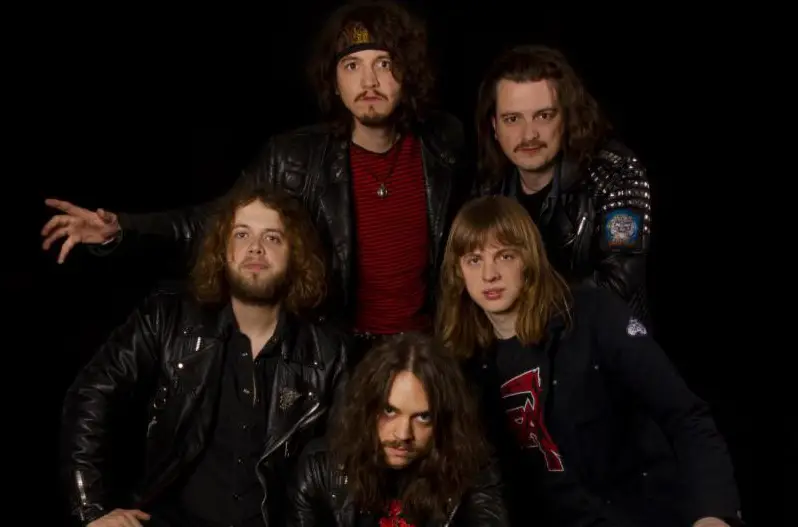 Just over a year after the release of their well-received self-titled debut EP, PULVER emerge with the Kings Under the Sand full-length, an album loaded with eight taut, memorable, but gritty classic metal cuts. The album will be released May 10 on Gates of Hell Records.
The "Phantom Hawk" arrives to enslave ancient Egypt! Here to tell the tale is PULVER , a German metal five-piece who batters like classic TANK and dazzles like early IRON MAIDEN.
Recorded in October of 2018 at Big Snuff Studio in Berlin, Germany, with producer Richard Behrens at the helm, Kings Under the Sand is stocked with eight compact, gritty metallic forays, successfully bridging the gap between NWOBHM and late 1970s hard rock. PULVER (who consist of vocalist Dave Fröhlich, the guitar tandem of Alex Oster and Lukas Kunkel, bassist Gabor Eichstätter and drummer Danny Oster) found the benefit of songwriting as a unit where no idea went unheard, but, a regimented and critical process was implemented to ensure the best results.
Accordingly, Kings Under the Sand is without filler, relishing in classic metal gallops and the rough, imitable vocals of Fröhlich, who, across album highlights such as "Blacksmith's Lament" and "Warrior Caste," sounds like he's channeling the ghosts of Manilla Road's Mark Shelton, Pagan Altar's Terry Jones and, for good measure, MOTÖRHEAD's Lemmy Kilmister.
Pulver has also made a concerted effort to introduce their unofficial mascot, the "Phantom Hawk" to the metal world. Described as an alien warrior tribe that made its first appearance on the band's self-titled EP, this time, the Phantom Hawk (who is featured on the album's cover art created by Max Löffler) has ancient Egypt under enslavement. In true storytelling fashion, Fröhlich and band takes the listener through a science fiction-themed journey that concludes with the epic "Curse of the Pharaoh."
The depth and scope of Kings Under the Sand cannot be disputed — Pulverhas created an album that will easily satisfy the classic metal horde while offering a glimpse into the universe they've created with the Phantom Hawk. Well-executed classic metal with a concept to boot? It's icing on the intergalactic cake.