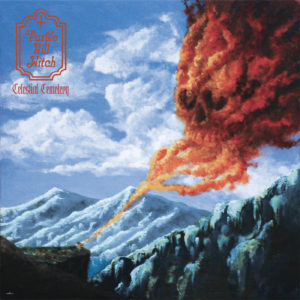 It is great that bands are kind of redescovering the tones and cadences from the 1960's. It was a time of great music. So much hapenned in such a little time that we were not able to go through it all. If you disconsider all those hippie crap, flower power, love is all, and yeap, yeap, the music was awesome. Times for changes, for musical revolution. Our beloved Metal was born there. Before Black Sabbath did their magic, there were a few bands doing almost the same thing. But the Sabbath deserve the credit for putting it all together. Some bands had the sound, others had the attitude, but only Sabbath had it all.
I wrote it all to say that Purple Hill Witch seem to be a band from the 1960s. "Celestial Cemetary" could have been wrotten by Lucifer's Friends or Coven for instance. I know that it is not their intent, but that was what we get. The guitars are sabbathish, the vocals have the taste of Ozzy, yeah right. But the outcome we get is slightely different. That's what gives Purple Hill Witch their personality. They are not one more doom metal band trying to be Black Sabbath. Reason is that they drank from different waters.
"Ghouls in Leather" has an organ that reminds a lot the 1960s. The fuzzy guitars too. Title track, "Celestial Cemetary," is the most sabbathish, though. The psycho singer does his best to impersonate Ozzy, and he does it well. We all agree that the early Black Sabbath are amazing. They deserve much more than we can ever give them. Thus, having bands that honor their music is fantastic. Purple Hill Witch get exactly that in "Menticide." But Purple Hill Witch got a little further in time. "Menticide" could have been in albums like "Technical Extasy" or "Never Say Die." Purple Hill Witch looked far in time from their inspiration. Not only they achieved a retro atmosphere, but they sure got all the intensity and swing of that time. Just listen to the uncanny harmonic at the end of "Burnt Offering." Good surprise.
"Celestial Cemetary" is an album that will please the most eager Black Sabbath's fan and also the most loyal doom metal fan.
BTW, wow, what is that art cover?
Purple Hill Witch "Celestial Cemetary" was released on November 10th via The Church Within Records.
Track Listing:
Ghouls in Leather
Harbinger of Death
Celestial Cemetery
Around the Universe
Menticide
The First Encounter
Burnt Offering
Watch "Ghouls in Leather" official video here: