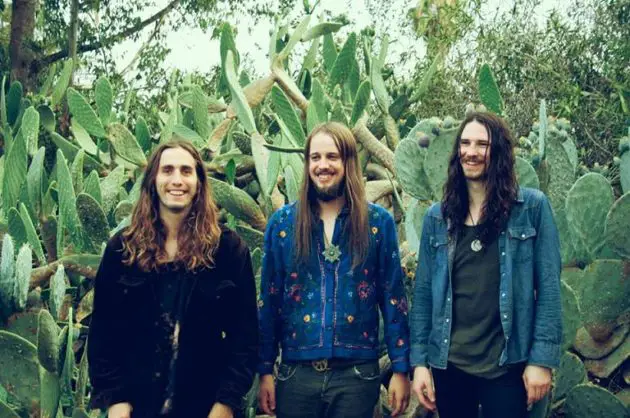 Southern Californian rock trio RADIO MOSCOW has just delivered the masters of its fifth studio album, "New Beginnings", which is set for release on September 29th, 2017 via new label home Century Media Records.
"New Beginnings" was recorded at Lost Ark Studio in San Diego with Mike Butler, produced by the band's own Parker Griggs and mastered by Mark Chalecki at Little Red Book Mastering. The album's striking cover artwork was created by artist Courtney Cole and photographer Dana Trippe with lettering coming from Robin Gnista.
As a sneak peek at what to expect, here is a video of a radio session take of the album's opening track "New Beginning" which you can check it out here.
"New Beginnings" Track Listing:
1. New Beginning
2. Deceiver
3. Woodrose Morning
4. Driftin'
5. No One Knows Where They've Been
6. Last to Know
7. New Skin
8. Pacing
9. Pick up the Pieces
10. Dreams
The album will be released as regular black and limited coloured LP+CD including a poster designed by Robin Gnista as well as on CD, and all digital/streaming platforms.
Right on time with release of their new opus, the band has confirmed the "The Drifting Tour", which will drown Europe from September 26th to October 31st in waves of fuzzy, hard rocking riffs and sweaty, cranked up blues! Read the tour dates below.
"The Drifting Tour" 2017 
with special guests Kaleidobolt
26.09.17 Paris (FR) Backstage
27.09.17 Nantes (FR) Le Ferrailleur
28.09.17 Bilbao (ES) Kafe Antzokia
29.09.17 Gijon (ES) Casino Acapulco
30.09.17 Porto (PT) Hard Club
01.10.17 Lisbon (PT) RCA
02.10.17 Madrid (ES) Caracol
03.10.17 Barcelona (ES) Rocksound
04.10.17 Montpellier (FR) Secret Place
06.10.17 Pratteln (CH) Up In Smoke
07.10.17 Athens (GR) Desertfest
09.10.17 Roma (IT) Traffic
10.10.17 Altroquando (IT) Zero Branco
11.10.17 Torino (IT) Blah Blah
13.10.17 Antwerpen (BE) Desertfest
14.10.17 Groningen (NL) Vera
15.10.17 Cologne (DE) Underground
16.10.17 Wiesbaden (DE) Schlachthof
17.10.17 Wien (AT) Arena
18.10.17 Innsbruck (AT) PMK
19.10.17 Etagnieres (CH) Croc the Rock Festival
20.10.17 Munich (DE) Keep it Low
21.10.17 Dresden (DE) Beatpol
23.10.17 Hamburg (DE) Hafenklang
24.10.17 Copenhagen (DK) tbc
25.10.17 Stockholm (SE) Undergangen
26.10.17 Göteborg (SE) Sticky Fingers
28.10.17 Bergen (NO) Garage
30.10.17 Hannover (DE) Chez Heinz (* no Kaleidobolt)
31.10.17 Berlin (DE) Festsaal (* no Kaleidobolt)