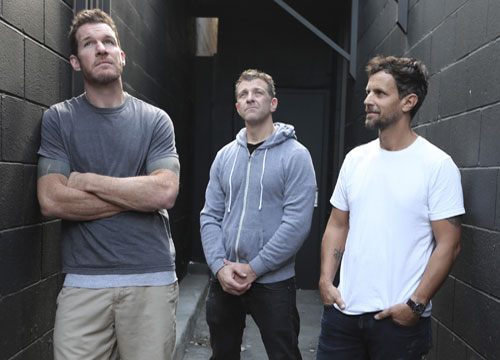 RAGE AGAINST THE MACHINE bassist and founding member Tim Commerford has signed a worldwide record deal with legendary UK-based independent label Earache Records for his new band WAKRAT.  Go to earache.com/wakrat to listen to the brand new track, "Generation F**ked".
As part of RAGE AGAINST THE MACHINE, Commerford has sold tens of millions of albums, played to countless fans across the globe and won two Grammy Awards.  Commerfordthen went on to form another hugely successful act, AUDIOSLAVE, with his former RAGE AGAINST THE MACHINE bandmates Tom Morello and Brad Wilk, along withSOUNDGARDEN frontman Chris Cornell.
RAGE AGAINST THE MACHINE would briefly return in 2007 for another stint which led to some of the most legendary shows of the band's career, in turn scoring a UK Christmas number one single in 2009, with their track "Killing in the Name" taking the top spot on the charts from The X Factor for the first time in five years due to a fan-led Facebook campaign.
To celebrate the number one single, the band held a free concert for fans dubbed "The Rage Factor" in 2010.  Watch footage of the band performing "Killing in the Name" from the triumphant show below.
Tim Commerford is now returning in 2016 with WAKRAT, a brand new project which features Commerford on vocals and bass, Mathias Wakrat on drums, and Laurent Grangeon on guitar and vocals.  The band's debut album is due to be released later this year on Earache Records.
Tim Commerford comments: "We are gearing up to be on the offensive, assaulting the populous with our debut album on Earache Records.  We have put a s**t load of blood and sweat into this and we want it back!  Our mission is to attack modern music and smash the grid.  Unapologetic, unrelenting, unbridled and uncensored.  Understood?"
Commerford this week promised to #MakeAmericaRageAgain with one of the most anticipated groups of the year – PROPHETS OF RAGE – reuniting with two of his former RAGE AGAINST THE MACHINE bandmates, Tom Morello and Brad Wilk, with Chuck D (PUBLIC ENEMY) and B-Real (CYPRESS HILL) on vocals.
Earache's Tom Hadfield adds: "We are so excited to be working with Tim Commerford.  Since Rage Against The Machine, there has been a distinct lack of politically-charged bands around.  Corruption is everywhere and those responsible for the inequality and suffering need to be held accountable.  What better place than here, what better time than now."
Earache Records is one of the true independent pioneers of music and is famous for raging against the mainstream with many controversial and politically-charged acts, launching the careers of genre-leading names such as NAPALM DEATH, CARCASS, GODFLESH, THE DILLINGER ESCAPE PLAN and more recently RIVAL SONS.
Go to earache.com/wakrat to hear a brand new WAKRAT track, "Generation F**ked".
https://www.instagram.com/p/BF2aAsYB4sT/