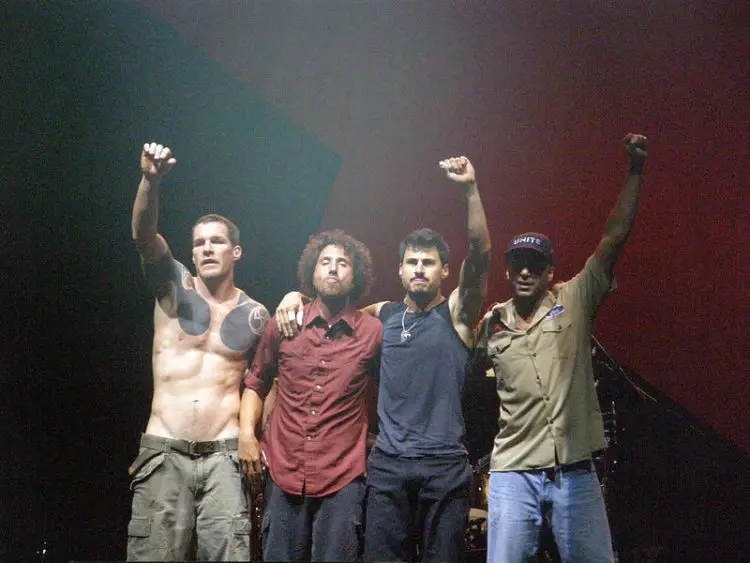 RAGE AGAINST THE MACHINE have been confirmed as one of the headliners for the 2020 Coachella Valley Music And Arts Festival.
The event will take place over two back-to-back weekends — April 10-12 and April 17-19 — at Empire Polo Club in Indio, California. Other headliners are Travis Scott and Frank Ocean.
WU-TANG rapper RZA got wind of RAGE's recently-announced reunion, telling TMZ about a potential full-scale tour together:
I think it's a great thing for RAGE to be reunited. Tom [Morello] and Zack [de la Rocha] getting back together and Coachella's gonna be exciting. If the stars line up right, when they finish that Coachella one, they need to hook up with Wu-Tang and finish that tour we never finished.
When asked if he was serious about this idea, RZA said a RAGE and WU-TANG tour would be a perfect match:
I think right now, the way the times are, we need RAGE AGAINST THE MACHINE. It's a perfect time for them, perfect energy for them and we think the climate is right for Rage like the climate is right for WU-TANG. Let's rock the world.
However, fans don't seem to be pleased with this idea, suggesting that RAGE go on tour with either TOOL, SYSTEM OF A DOWN, NINE INCH NAILS, PRIMUS or MINISTRY instead of WU-TANG; the latter of the two are currently supporting SLAYER on their final U.S. tour. RAGE, TOOL and PRIMUS have actually toured together once before, when they, along with ALICE IN CHAINS, were all part of the Lollapalooza tour back in 1993.