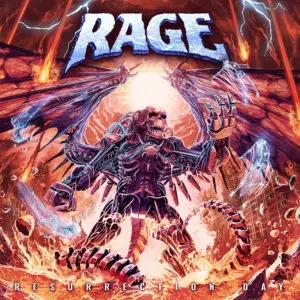 This week is the week of the big guns, so, it's the week of the reviews that do come already written. There are bands that there is no hard work in writing about their new releases. Their name and tradition speak louder than anything I could write about their new releases. Who am I to badmouth a band as Rage? No one, really. So, I humble kneel on thy new album "Resurrection Day" and write this humble and unnecessary review – the world could live without it but even so. Jokes aside, Rage are one of the hardest, most coherent and proudest Heavy Metal bands ever. In their discography there isn't an album to be ashamed of as other big guns have though time has literally been a blessing to some albums.
Rage's long and glorious career starts in 1985 still under the monicker of Avenger with 1985's "Prayers of Steel" an album that is one of the pioneer of the Teotonic Heavy Metal which helped shaping what would be soon called Power Metal and than Extreme Metal. However, Rage opted to stay loyal to its Metal roots and didn't go farther in speed and velocity maintaining the distinctive Teotonic melodic grip as they do in tracks as "The Age of Reason" where the mix of fast guitar riffing and drumming melts with the melodic vocals and guitar phrasings. Things that we had the pleasure and honor to notice reviewing their 2019's "Winds of Rage."
To many "Resurrection Day" may be more of the same as the album doesn't change a bit the music Rage are used to do. However, what they call more of the same, I call resilience and faith. Resilience to pass all those years loyal to the music they love and faith to truely believe in the music they've done for all those years. It's better to stay true than to change every album jmust looking for what others think to be true. Rage chose this path. "Resurrection Day" is absolutely loyal to the tradition they've created since 1985. From where I'm standing we need more Rages than the bands that have no heart and soul – I won't say their names but you, my fan, know which band I refer to.
It doesn't mean that "Resurrection Day" doesn't have its glorious moments. "Memento Vitae (Overture)" is the perfect epic and glorious bridge to the tittle track "Resurrection Day" which tells in its four minutes the musical story of Rage. "Traveling Through Time" is the touching and emotional track with its epic and grand instrumental which reminds a little Grave Digger's mooding. The kind of chorus that the fans will singalong throughout the show at Wacken. Or other big festival all around this sad and lonely and pathetic little planet.
"Resurrection Day" is an album to praise and pray for more to come.
P.S.: This month has also been tragic to the band due to the passing of its founding member Jochen Schroeder.
Rage "Resurrection Day" will be released on September 17th via Steamhammer / SPV.
Track Listing:
Memento Vitae (Overture)
Resurrection Day
Virginity
A New Land
Arrogance and Ignorance
Man in Chains
The Age of Reason
Monetary Gods
Mind Control
Traveling Through Time
Black Room
Extinction Overkill 
Watch "Virginity" official video here: