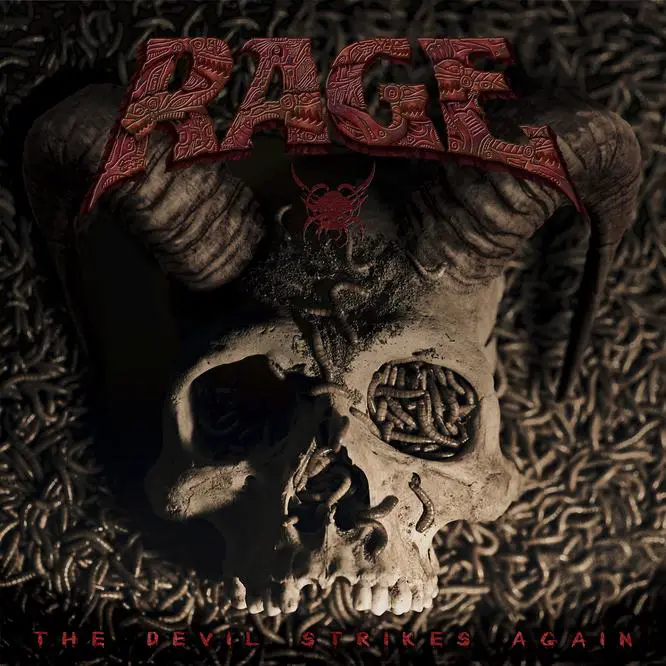 Iconic German metal trio RAGE have just completed a successful tour of Europe as special guests to their label mates in HELLOWEEN. A few days before the tour started, "My Way", the band's new EP, was released via Nuclear Blast. Now the long wait is over – RAGE are set to release their brand-new studio album called "The Devil Strikes Again", on June 10th.
Bassist/vocalist Peavy Wagner commented:
"Here comes RAGE's hardest record in years! The title says it all and we have captured the band's unique spirit of our classic works. The cover reflects the music – hard and straight!"
After the first listen, the international press were already really impressed:
"Absolutely a new classic! Peavy has gone back to their roots. Warning – this is raw and heavy as you can imagine. You will feel this fresh blood on your hears. This is RAGE with a turbo machine!"
SPARK (CZ), David Havlena
"RAGE's very own demon strikes back with an overwhelming piece of work swinging between huge thrash riffs and slamming power metal melodies. The true essence of teutonic violence and international airplay."
ROCK HARD (I), Emanuele Biani
"Fresh, powerful, aggressive, but tormented. Who needs more? RAGE are back, stronger than ever."
METALLIAN (F), Denis Halleux
"Daredevil Peavy managed to unearth the true essence of RAGE. A compact and varied album full of hymns, aggression & melodies."
DEAF FOREVER (D), Lothar Hausfeld
"Brutal, playful, melodic – RAGE kick ass again. »The Devil Strikes Again« continues where »Black In Mind« ended. A must-have!"
METAL.DE (D), Colin Büttner
The album was recorded in September/October 2015 at Megafon Studios (Burscheid, Germany) and at Soundchaser Studios (Zandhoven, Belgium). Its production was handled by Marcos Rodriguez and Peavy Wagner, whilst renowned the Dan Swanö (MARDUK, OPETH, DISSECTION, KATATONIA) took care of the mix and mastering at Unisound Studios (Grefrath, Germany). The stunning cover artwork was created by Karim König.
It will be available as a 3CD DIGI (limited to 1,000 copies; Nuclear Blast Mailorder-exclusive), 2CD DIGI, and 2LP (black, white). All editions contain six bonus tracks (incl. three cover versions of RUSH, SKID ROW, and Y&T). The 3CD DIGI also features a bonus live CD from the latest European tour with HELLOWEEN and C.O.P. UK.
"The Devil Strikes Again" – Tracklisting:
3CD DIGI
CD1
01. The Devil Strikes Again
02. My Way
03. Back On Track
04. The Final Curtain
05. War
06. Ocean Full Of Tears
07. Deaf, Dumb And Blind
08. Spirits Of The Night
09. Times Of Darkness
10. The Dark Side Of The Sun
Bonus CD
01. Bring Me Down
02. Into The Fire
03. Requiem
04. Bravado (RUSH Cover)
05. Slave To The Grind (SKID ROW Cover)
06. Open Fire (Y&T Cover)
Bonus Live CD
TBA