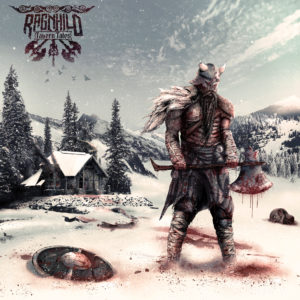 I'll go straight to the point; what a great album! An album that I could hear on and on – well, I did that. I wrote here zillion of times that I really appreciate Melodic Death Metal. Some may say that Melodeth's ship has sailed for some time, but bands as Ragnhild make me think otherwise. So, where do Ragnhild and "Tavern Tales" stand out from the crowd?
I was expecting this question to pop up. Well, the thing is that "Tavern Tales" is a very well-performed album in terms of instrumentals, but there is a small touch of raw production that gives all the charm to it. It sounds a lot as In Flames early efforts, but the guitars sound much better. They don't buzz so much. Ragnhild add to their music an epic vibe as Amon Amarth do, but they sound more Old School Heavy Metal which is just another charm. There are sound effects of batles, swords blasting, warrior's laughters, and things like that. "Tavern Tales" also add some humor to their tracks. However, the thing that really got me was the remembrance of early Viper as in "Viking's Mosh" and its Power Metal grip with a harsher vocal.
Musicwise, "Tavern Tales" is a trip throughout Heavy Metal from Old School features to Power Metal ones. The magical touch is the vocals which change everything due to Rohit Jalgaonkar's voice ability to try different paths. The outcome is an album that offers a sonic diversity that don't annoy the fan. That's a very important thing when it comes to a subgenre that has been exploited a lot as Melodeth. For instance, "Battle on My Grave" kicks off with a nice accoustic theme with some guitar melodies that win the day. Then in a sudden it goes frankly to a carnage without forgetting melody. From where I'm standing it can't get better.
Ragnhild "Tavern Tales" was released on March 10th via Proximity Music.
Track Listing:
Battle on My Grave
A Viking Mosh
We Will March
Glory of our mighty king
Under The Red Sky
Stronghold

Ragnhild

Tavern Tales (title track)
Death of a warrior
Watch "Under the Red Sky" official video here: