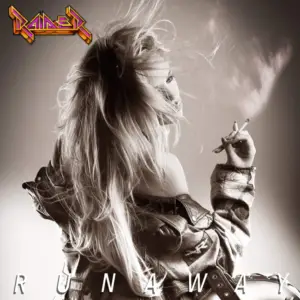 "Runaway" is the name of the first Bon Jovi hit from the 1984's eponymous album "Bon Jovi." Raider have some features of them, not all, but some. There's been some kind of revival of Hard Rock bands from the releases we've been receiving here. It would be accurate to say that at least a band a month. This revival showed some really nice bands from what I experienced here. Ok, the bands aren't that original some may say, but who's completely original these days? Right, the battlefields of Extreme Metal bands did present some really innovative bands, but Hard Rock did as well. By the way, the term Hair Metal for me doesn't have a bad name as for many. On the contrary, I do like it and I think it expresses better the pool of bands that perform this kind of music. Hard Rock addresses to the 1970s and most of the bands don't have those 1970s sonancy except for the Blues thing.
Right, "Runaway" welcomes the fan with "Dusk Till Dawn" that immediately addresses to 1996's classic movie "From Dusk Till Dawn" featuring the marvelous Salma Hayek. It's impossible not to remember her. The track is fulled with the pure 1980's spirit of gasoline and whiskey and some lacquer – of course. The track's guitar phrasing is something that brings the spirit higher and higher. Interesting chorus. Following track "High Speed Woman" has an uncanny chorus. The song sounds a little bit different from the rest with its uptempo and pounding drumming. The chorus takes almost all the intro and most of the song itself. In this track it's possible to notice once for all that the sharp guitars are one of the highlights of the band. Well, as many Hair Metal bands. Other thing. Raider have a team of vocalist that are able to be the second voice or even the lead as Def Lepard used to do a lot. Tittle track "Runaway" has that worn out guitar riffing that, however, works pretty nice all the time. A classic Hair Metal tune that slows down when the vocals come. Mike Platt's vocals is also a highlight with his very tuned voice with a high range.
"Runaway" is an album for Hair Metal lovers. Nine tracks of pure delight, if you know what I'm saying. Haters, please keep miles and miles away. Just a different vibe and mood. However, it's possible to worship two, or more, gods. I do.
Raider "Runaway" was independently released on June 10th.
Track Listing:
Dusk Till Dawn
High Speed Woman
Runaway
Come and Get It
Feel the Night
We Had Tonight
Sidewinder
Changes
Memories
Give It All You Got
Watch "High Speed Woman" official music video here: