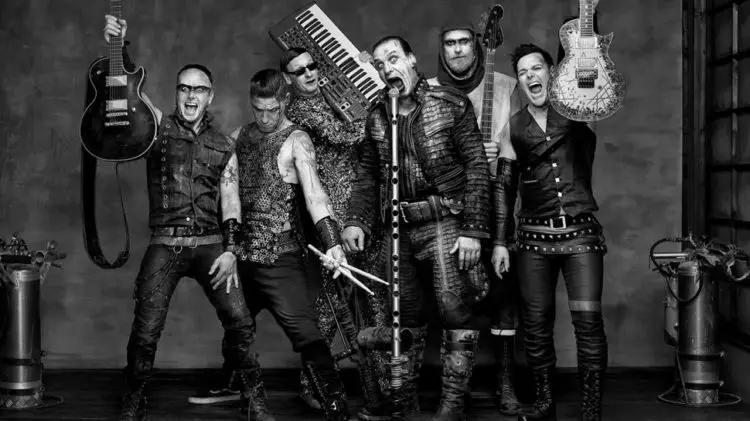 In a recent interview with Jessie David, RAMMSTEIN guitarist Richard Kruspe reflected on his recent comments about rock being "dead."
Back in December, Kruspe said that the hip-hop is now a music of rebellion. Read his previous interview at this location.
His newest conversation can be seen below (as transcribed by Ultimate-Guitar.com):
Now, you said that rock is dead. Why do you think that is? Do you believe it can be resurrected?
"Well, you never know what's going to happen, I don't have like this crystal ball or anything. If I had that, I would be much more relaxed.

"I think what happens is that rock music had a certain kind of energy to rebel against parents. It's an important part, young people have to rebel, so I think that rock music, the sound of a guitar – it's not what it used to be.

"Nowadays, if a little kid cranks up to listen to rock music, the parents say, 'Oh, make it louder.' Rebellion?

"I don't know what happens in America, but in Germany, I feel like rebelling is all of a sudden in the lyrics, and especially in German – it's all about hip-hop and trap.

"To me, it's very hard to relate to that. I don't know if they believe it or they think it's just cool to say that. If you ask me if rock music comes back, I mean, everything goes against it.

"All the big bands, they don't really get invited anymore. Even that people like having successful bands, they don't come as headliners, it's like the dinosaurs dying at the moment, and the only advance that we have in rock music is that we have a good live show.

"If you see hip-hop acts, most likely 90% is quite boring, so that's the only thing we have. When you actually see somebody on stage to interact with each other in the way that they're making music, it's something we have to keep, it's the only way to survive."
With streaming services like Spotify becoming more and more popular and more albums are being leaked, where do you think the direction of music is going and how do you think musicians will adapt when it comes to releasing a new album?
"Well, first of all, there is something very, very wrong in the streaming world. I'm happy that we've been through the time where music got downloaded and stolen.

"I tried for many years to preach that music can't be free, it can't be. I actually tried to explain it to my children – it's, like, if I'm writing a song until the end, I probably spent a thousand hours working; if you would go somewhere else to spend a thousand hours and nobody's paying you, you're going to be pissed.

"Even my kids didn't understand they were stealing music, you know, it was like I'm happy right now that we have a situation where music is not free. You have a little bit of Spotify, like, their free trial, but I think it will go away.

"There's one thing that I am really fighting for right now – what happens with streaming at the moment, if you, for example, pay 10 euros, and let's say you listen only to Emigrate songs.

"Normally, it would be fair that those 10 euros would go to Emigrate, right? What happened is, it's not artist-based streaming. Every month, you calculate the stream, and you only get one stream instead of those 10 euros."