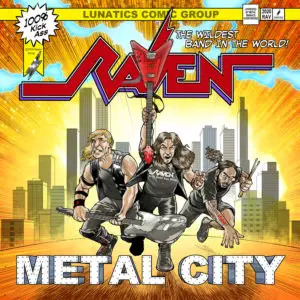 Raven are one of the dozen bands – not accurate this number – that I should have payed much more attention in the days. It was a band that I heard and read a lot about with their importance and relevance, but just really got them few years ago when I bought a CD – can't remember exactly which one right now – and reviewed their live album "Screaming Murder Death from above – Live in Aalborg" two years ago. So, it's almost impossible to me to compare this recen effort to their previous except the aforementioned live album.
By the middle of the 1980 a striking and merciless virus – the commercialis virus – stroke many Metal bands. This ferocious virus took from us forever bands as Def Lepard and almost made victims bands as Iron Maiden, Judas Priest and Saxon – Saxon almost died as well, but by a miracle from the Metal gods were able to survive. Raven were one of those bands and it took years for them to recover completely. "Metal City" belongs to the recovered status and it shows the band that was praised zillion years ago as a Metal promise.
"Metal City" kicks off the way Speed Metal fans appreciate the most with the striking and fast and mean "The Power" – the name does justice. "The Power" shows some elements that would be made mandatory by Extreme Metal bands as the shrieking vocals and demonical laughs, but common in the 1980s by Speed Metal bands. Following track "Top of the Mountain" is a typical product of 1980s Heavy Metal bands with its grooving riffing and hi-speed drumming giving the song a frenzy that it is hard to explain. It's for sure the most banging track of "Metal City." The same banging grip has "Human Race" but a bit faster and with some elements of what is called today as Extreme Metal. The thing is that it comes from a band that pioneered most of these elements, so it gets even more relevant.
Bottomline, "Metal City" is an album with both feet in the 1980s, maybe a mea culpa from the band or an apologize request to their loyal fans that were disappointed with they did then. Well, better late than never.
P.S. – Just loved the CD cover.
Raven "Metal City" will be released on September 18th via Steamhammer / SPV Records.
Track Listing:
The Power
Top of the Mountain
Human Race
Metal City
Battlescarred
Cybertron
Motorheadin'
Not So Easy
Break
When Worlds Collide
Watch "Top of the Mountain" official lyric video:
964