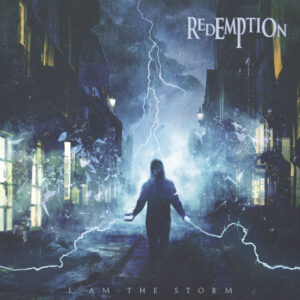 I'll admit that band's names and albums tittles really attract me a lot. Yeah, they do. One of the most important things a band has to care is the name. From where I'm standing the name means everything to a band. Redemption is a great name. "I Am the Storm" is just wow. A hell of a tittle to an album. It's just so Metal. So Metal. I mean both. Both are so Metal. Musically, "I Am the Storm" is a true hodgepodge of Metal music and other Rock influences mixed all together. I say Rock because there are influences of pop and Prog Rock mostly here. If the storm Redemption refer is this really huge mix of themes and musicality, yes, it's a storm. This album addresses to many of them. Really many of them.
What really gets in the face of the fan while listening to "I Am the Storm" is the huge piano and keyboards references everywhere. In some they are used to give some more power to the song as in "All This Time (And Not Enough)," in others as "The Emotional Depiction of Light" they give a more pop mood to it. Maybe that was also Redemption's intent for all the album. This mix of powerful tunes with something softer. Well, that's okay to me unless the thing doesn't get too soft, if you know what I mean. It's really hard to balance both especially for a band that the intent is to be Prog Metal. My guess is that Redemption had a real hard time to choos from both as many tracks are softer than they had to be. Or even the choice of Peter Gabriel's "Red Rain," an artist that from where I'm standing doesn't have anything to do with Metal. I particularly don't like his solo career. Well, but, above all, the song has a great guitar riff.
"I Am the Storm" is an album that starts up with the killing tittle track which made me thing the band had some sort of Power Prog Metal infusion. However, for all that matters, the album goes diminishing the power and the Metal giving space to more Prog and pop. That's so unfortunate because tittle track is a killer. Still killer band name and album tittle, though.
Redemption "I Am the Storm" will be released on March 17th via AFM Records.
Track Listing:
Am the Storm
Seven Minutes from Sunset
Remember the Dawn
The Emotional Depiction of Light
Resilience
Action at a Distance
Turn It on Again
All This Time (And Not Enough)
The Emotional Depiction of Light (Vikram's Remix)
Red Rain
Watch "I Am the Storm" official music video here: