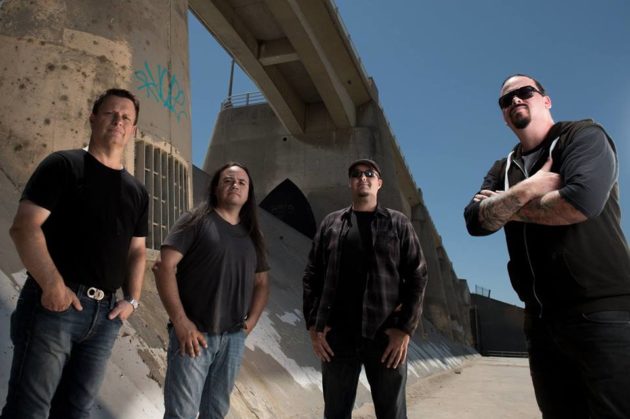 On July 27th, REDEMPTION will release their seventh full-length album, 'Long Night's Journey into Day' – the first to be produced with Jacob Hansen (Volbeat, Primal Fear, Amaranthe, Doro, etc.). For a preview of 'Long Night's Journey into Day', the band has launched an instrumental play-through for the track 'Indulge In Color' (featuring Simone Mularoni of DGM), which can be viewed below.
"We have a number of elements to our sound, from more aggressive riff-driven material, to more melodic metal with technical elements, to more progressive material," says van Dyk. "It's hard to capture our sound with just one song. So we're particularly excited to release this longer track that showcases our more progressive elements and Tom's amazing singing in that context. I know people are eager to hear how he sounds on this type of track and I think his performance here is going to blow people away."
The follow-up to 2016's 'The Art Of Loss', which van Dyk counts amongst REDEMPTION's very best, 'Long Night's Journey Into Day' is inarguably the sound of a band at the height of their powers. As followers of REDEMPTION are also aware, it is the first full-length since the departure of vocalist Ray Alder, and features the debut of Evergrey vocalist Tom Englund. "We were unable to tour 'The Art Of Loss' because Ray was not able to actively participate in Redemption any longer, so we decided it was time to part company shortly after its release. Ray is a dear friend, and I have nothing but respect and love for him and what we created together. But at some point, it just became untenable." Of course, Alder's shoes were not exactly going to be easy to fill, and it was essential that his successor be someone who would immediately command respect, as well as somebody who could exceed expectations when it came to performance. Moreover, it was integral that they had someone who could fully invest in the lyrical themes concerning the human condition, which have always been central to Redemption. So, the fact that from the beginning of his career Englund has penned lyrics about feelings of doubt, fear and despair with an unshakable emotional authenticity made him the perfect choice. "Because of the power of his voice and the emotion he brings, this isn't going to be a shocking transition for fans. Tom's also a very versatile vocalist, and being a songwriter, he has a tremendous melodic and compositional sensibility, and on top of that, we've known each other for many years, and there is a level of not just professional respect but personal friendship to it all."
Guitarists Chris Poland (Megadeth, OHM) and Simone Mularoni (DGM) return as guest musicians. When it came to backing up the music with visuals, the band once again turned to a longtime collaborator, Travis Smith, whose humbling resumé includes records by bands such as Art Of Defiance, Opeth and Iced Earth.
'Long Night's Journey into Day' track-listing
1. Eyes You Dare Not Meet in Dreams
2. Someone Else's Problem
3. The Echo Chamber
4. Impermanent
5. Indulge in Color
6. Little Men
7. And Yet
8. The Last of Me
9. New Year's Day
10. Long Night's Journey into Day
REDEMPTION line-up:
Tom Englund – vocals
Nick van Dyk – guitars
Sean Andrews – bass
Chris Quirarte – drums
Vikram Shankar – keyboards