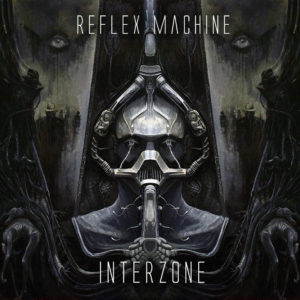 My man, what a difficult album to label! One of the most difficult I've ever gotten here in these three years of reviews. "Interzone" is a bricolage of influences and moods and music. First of all there are no guitars at all, just the bass and the drums. How come? Well, it is so, there is no guitar in "Interzone" and even worse, Reflex Machine don't seem to miss them as they discovered tons of ways to use their bass. Listen to the title track and tell me what you feel. Ah, the solos are the bass, okay.
"Interzone" is full of those vaudeville music that some Extreme Metal bands are using, full of childish moods and sonic effects that are embedded into their music. There lots of choruses that use those war cries that sound like they come movie soundtrack. Second track "The Descent i. Enter Jones" in the very beginning sounds like Marilyn Manson version of "Sweet Dreams" with a more debauched vocal. It's impossible not to remember it during the first seconds. It's very interesting how the cadence and tempo change so violently in it. There are echoes of Pink Floyd's "The Wall" in it with the history telling coming down through the music. By the way, "Interzone" sounds really like it at least in conception. well, if there is a concept hidden in "Interzone" I don't know, but it sounds as if.
On the other hand, it's incredible what Reflex Machine do with only a bass and the drums. The music in "Interzone" is sometimes very deep and complex, but there are times that they seem unpolished and too raw. In fact, there are lots of contradictions in "Interzone" to cope. It takes a lot of talent to build up a complete record with so scarce instrumental resources, but as the old proverb says "necessity is the mother of invention." Sure thing. Reflex Machine prove us that it is possible to have a complete record with eight tracks using only what they have.
Reflex Machine "Interzone" will be released on September 06th via Over the CounterCultureRecords.
Track Listing:
Interzone
The Descent i. Enter Jones
The Descent ii. L_Appel Du Vide
The Descent iii. Lust for Loss
Machina
Framed
Faulty Apparatus
Burn It Down
Watch "Faulty Apparatus" official video here: