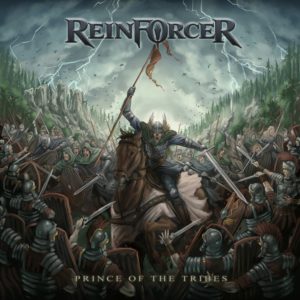 Never tell a book by its cover or never tell a band by its name. That's one my mottos.
I don't if I'm too kind with the bands I review or if I receive tons of great bands with great songs and music. I've just found my new passion in this Metal music world. My fan here knows how passionate I'm about Metal music. It's only my first real love that I found when I was just a teen back then in the middle of the 1980s – wow, longo, long time ago. To feel the same I feel about Reinforcer "Prince of the Tribes" I recommend the fan to go straight ahead to seventh track "Hand on Heart," the track in my opinion represents best the album. The passion, the heart, the emotion, the feeling, and of course the technique and the heavyness of it just tell. reminds a lot fo Manowar not only for the music but also fo the attitude. To me it means a lot because I just love Manowar even though the tons of controversies the band has been into these years. It's just that Manowar were one of the first Metal bands I ran into with their longtime classic "Battle Hymns" – hum, it will be my next Classical Review.
First, and opening, track "Prince of the Tribes" is a damn good starter to the fan. A highlight to the passion and emotion and the feeling vocalist Togan Lexi that touch the fan. The man's voice has that warmth that makes the fan happy just to hear it. This and the competent and talented instrumentals make Reinforcer a band to reminded. The twin guitars of "Allegiance and Steel" work pretty much well and cozy the fan into a atmosphere of power and glory that we all metallers appreciate. The music of the is at the same time known albeit the outcome got from the songwriting amazes and makes the fan forget all the influences of Iron Maiden, Judas Priest, and, of course, Manowar to focus only in the bands original work. Its also nice to see how the band changes subjects to their songs as "Black Sails" and "Shipwreck" tell about the life of pirates and the sea the way the great Running Wild used to.
I guess I have a favorite for my nominatation in the end of the year. If nothing else more wondrous happens during the year. However I guess that will be pretty difficult as this year has been having some great releases.
Reinforcer "Prince of the Tribes" will be released on June 18th via Scarlet Records.
Tracking List:
Prince of the Tribes
Allegiance and Steel
Black Sails
Shieldmaiden
Coup de Grâce
Thou Shall Burn
Hand on Heart
Another Night
Z32
Watch "Prince of the Tribes" official lyric video here: