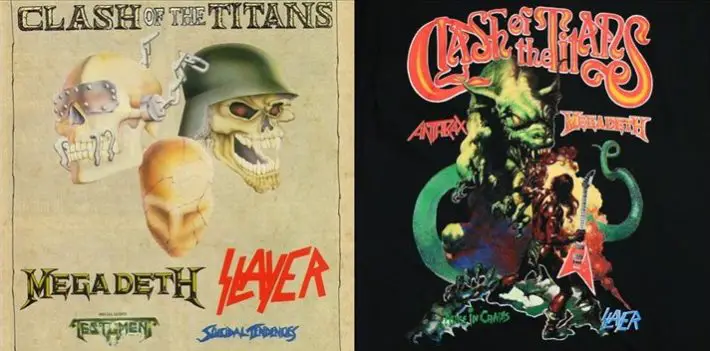 A reboot of the legendary "Clash Of The Titans" tour has been rumored for years, but industry insiders have reckoned that the tour will take place in the future by celebrating its 30th anniversary, which happens to be next year.
Rumors of the resuscitated "Clash Of The Titans" tour come just days after the Facebook page Thrash Metal Family indicated that it will include a different lineup, with MEGADETH and TESTAMENT likely on the bill and SLAYER out of the picture because of the fact that they are wrapping up their final world tour later this year. Suggestions of filling in for SLAYER include KREATOR, EXODUS, DEATH ANGEL, OVERKILL or ANTHRAX, as well as "new school" acts like SUICIDAL ANGELS, HAVOK or WARBRINGER taking the opening slot.
The first leg of the "Clash Of The Titans" tour took place in Europe in 1990 when the thrash metal genre was at the height of its popularity; on the bill were MEGADETH, SLAYER, TESTAMENT and SUICIDAL TENDENCIES, all of whom were touring in support of the most successful records of their careers — "Rust In Peace", "Seasons In The Abyss", "Souls Of Black" and "Lights…Camera…Revolution!" respectively.
The second leg of the "Clash Of The Titans" tour took place in the United States in 1991, and it was triple-headlined by MEGADETH, SLAYER and ANTHRAX while a then-unknown ALICE IN CHAINS were the opening act. DEATH ANGEL, SEPULTURA, PANTERA, TESTAMENT, EXODUS, VIO-LENCE, KREATOR and OBITUARY were all reportedly offered to open the U.S. "Clash Of The Titans" tour but declined, and therefore ALICE IN CHAINS took the slot.
MEGADETH, SLAYER, ANTHRAX and TESTAMENT teamed up together again years later under the banner "The American Carnage Tour", which saw the former of the two celebrating the 20th anniversary of their respective albums "Rust In Peace" and "Seasons In The Abyss". TESTAMENT opened the first leg of this tour in the summer of 2010 while ANTHRAX supported the second leg later that year. Unlike "Clash Of The Titans", neither SUICIDAL TENDENCIES nor ALICE IN CHAINS took part in "The American Carnage Tour".
On the eve of the announcement of SLAYER's final world tour last year, rumors surfaced that a rebooted "Clash Of The Titans" tour was in the works and they would be joined by MEGADETH, TESTAMENT and SEPULTURA. Based on the aforementioned announcement — as well as MEGADETH leader Dave Mustaine suggesting a "new Big Four" tour (with TESTAMENT or EXODUS or both included) — the assumption at the time was that a new version of the "Clash Of The Titans" tour involving SLAYER would actually happen someday — or they were planning to play with MEGADETH at least one more time before the end of their final tour — though this was later proven false.