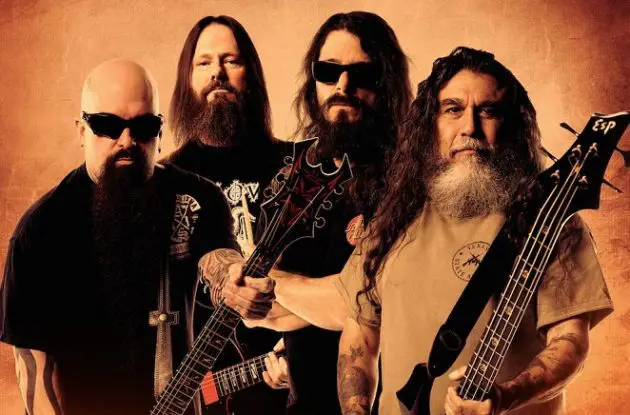 News spread online last week that an "anonymous source" claimed SLAYER were going to play what would be their last-ever show in their hometown of Los Angeles at The Forum in December by bringing their farewell tour to a close.
We asked the "anonymous tipster" if he knows anything about this show, which was reportedly going to include ANTHRAX, TESTAMENT and EXODUS as the opening bands. In an email he sent us, he claimed he had bumped into guitarist Kerry King and had a conversation with him. King apparently told the "anonymous tipster" that one final U.S. tour from SLAYER will tentatively run from October to December, and promised an L.A. appearance. He also mentioned "too many awesome bands" he would love to have as the opening acts, such as ANTHRAX, EXODUS, TESTAMENT, OVERKILL, ARMORED SAINT and METAL CHURCH.
If EXODUS are on the bill for SLAYER's final North American tour, guitarist Gary Holt would have to be doing double duties with those two bands. SLAYER, ANTHRAX and TESTAMENT previously toured together last year.
We will keep you all posted about SLAYER's final North American tour. The band will continue their farewell tour worldwide within the next several months, including a U.S. trek with LAMB OF GOD, AMON AMARTH and CANNIBAL CORPSE, as well as numerous festival appearances in Europe, Australia, Asia and South America.