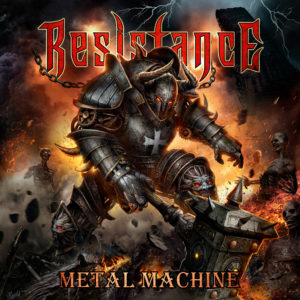 A band that praise all American Metal traditions. That's Resistence. It's the best definition I got to Resistence "Metal Machine." "Metal Machine" features all the hidden and undesired emotion from bands like WASP, Lizzy Borden, Cirith Ungol, Savage Grace, Liege Lord and others. With an extra bonus of sonic aggression and knockout. Resistence features a hodgepodge of 1980s American heavy metal bands influences, mostly from the bands that were abruptly overwhelmed by hard rock and extreme metal bands. In a sudden, heavy bands as the ones I quoted  before got into a dilemma: they were too heavy to hard rock listeners, and at the same time, too soft to the nascent extreme metal fans. For Resistence's sake those times are over. And we can enjoy again their music.
"Metal Machine" opens with a hammering in, I believe, an anvil. But forget that, title track "Metal Machine" is everything you wanted from a heavy metal, of course if you bought, or are in the mood for Resistence "Metal Machine." As I said before, Resistence is a very consistent and mature band. "Metal Machine" is Resistence's fouth album. To be more precise, the third full-length. They know what they're doing. Emotions and aggressivity are well dosed in all eight tracks. The singer is a highlight with his powerful and well pitched voice. And the best: he knows when is to pitch a little more, and when is to use his powerful tone. For that, it's very hard to highlight only one song. "Metal Machine" is very consistent, and all songs please. For instance, "Some Gave All" has an unexpected Kiss taste in the chorus. Besides, I couldn't resist to say something about "Time Machine," which is the heaviest track and brings back all the emotion from the 1980s. What an appropriate song title! Not to mention the sound of a motorbike in the beginning of "Dirty Side Down," which pardon me, reminds a little Poison.
By the way, Resistence's cover to Scorpions "Blackout" was great. Did that with the needed respect.
American Metal traditions are very well kept with Resistence. Let's praise them!
Track Listing:
Metal Machine
Hail To The Horns
Rise And Defend
Some Gave All
Time Machine
Dirty Side Down
Heroes
Blackout
Watch the official video for "Metal Machine" here:
"Metal Machine" was released on June 27th via No Remorse Records.