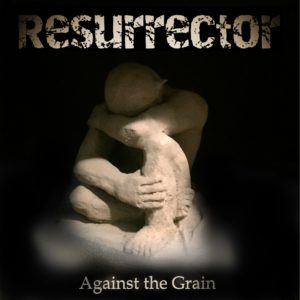 There are two intanst reflexions about Resurrector "Against the Grain;" the first is that the band is one more powerful act with strong vocals with shoegazed and strong guitars and the second is that it sounds a lot as early NWOBHM and its dirty and obscure albums and bands. Yeah, "Against the Grain" has a raw sonancy and a lo-fi production that gives it all the attention possible. Though the volume of it sounds a bit low, the music within is very good with a prominent bass that colors all the scene.
Resurrector show lots of references of Black Sabbath and Judas Priest which are too loud not to mention. For instance, fourth track "The Storm" melts by the third minute excerpts from Black Sabbath's "Children of the Grave" and other slight references that only a close and well-trained ear can notice. However, the overall content in "Against the Grain" isn't a tribute to Black Sabbath or any other band. The band manages very well all the influences they have into something really theirs resulting a very heavy album. By the way, this heavyness is the key to the album and the band. A curious fact is that "A.W.O.L." doesn't have vocals properly said, but a collection of pre-recorded speeches embellished with a shoegazed and doomed guitar riffing that reminds a little some Black Sabbath. In fact, in my opinion is the best track of the album with an outstanding bursting guitar solo.
It's outstanding the way Resurrector build up the guitar riffs in "Against the Grain." Instead of obscure and almost impossibvle to hear riffing, the band chooses clear and straight ahead tunes. The effect gets right to the fan's ears as something powerful and striking. "No-Exist" is a great example of all this with an interesting and very technical guitar solo. And a big hail to the intro of "Transcends" which creats a big fuzz to soon ending up in a very interesting and attractive track with prominent bass lines and an atmospheric passage by the third minute.
Resurrector "Against the Grain" was independently released on December 13th.
Track Listing:
Misdirection
S.O.T.U.
Ghost of Me
The Storm
Don't Tread
A.W.O.L.
No-Exist
Transcends
Watch "No-Exist" lyric video here: