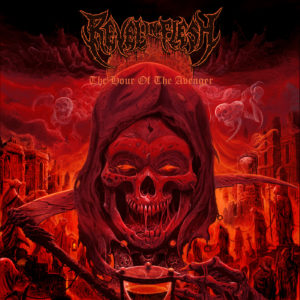 This year we received lots of following albums from bands we've reviewed before. It's a great step forward for us. It means that PRs and the bands have trusted enough on our job to rely on us again giving us the honor of reviewing them again. I have no words to thank you all for that.
Presentations and amenities made here we have 2018's Relics Of The Deathkult following "The Hour of the Avenger" which, in fact, is a real following because Revel in Flesh maintained the same grip, the same melodic guitar solos and interventions, the same aggressive and angry vocals, well, everything that really matters  is the same here. I guess I have to say some words about that. Most of my press peers, mostly the ones related to pop or other commercial styles would regret the fact a band keeps sounding the same from an album to the following album. I don't. From where I'm standing it is a way of a band show their character not to abandoning their roots. Have you ever heard a band regret losing their roots? Lots of times, haven't you? Not Revel in Flesh who firmly maintain their Melodic Death Metal roots to the bones. In "The Hour of the Avenger" the band adds a small dash of Punk Rock in the drumming as in "My Trial" whose speed-of-light velocity and melodic guitar interventions dazzle we all. The other option would be trying to reinvent the wheel which many bands thought it would be possible and failed miserably. Come on guys, the wheel has been already invented! The only possible thing is to make it better, give it a shine, new polish, and things like that. It's the same in music, it's everything there, bands just organize things the way they please. Okay, not really that, but you got my thought.
Revel in Flesh offer a very important thing to our days which is being a safe port, the safe place where one can find the flavor of home. That warm feeling of reaching something known. "The Hour of the Avenger" shows no unpleasant surprises to the fan as some of their peers sometimes do letting their fans go crazy with the weird ways they headed – No, never mention that band started with M… If you wnat to listen to an album that is hardcore to its roots here you have "The Hour of the Avenger" an album that gives you what it promised.
Revel in Flesh "The Hour of the Avenger" will be released on December 06th via War Anthem Records.
Track Listing:
The Hour of the Avenger

My Trial

Blood Oath

The Nihilistic Nothingness

Sky Burial

Deathblow

Pervitin Speed Kill

The Wayfarer

Skull Sacrifice

The Nightbreed

Rock Out (Motörhead Cover) 
Watch "Blood Oath" official music video here: