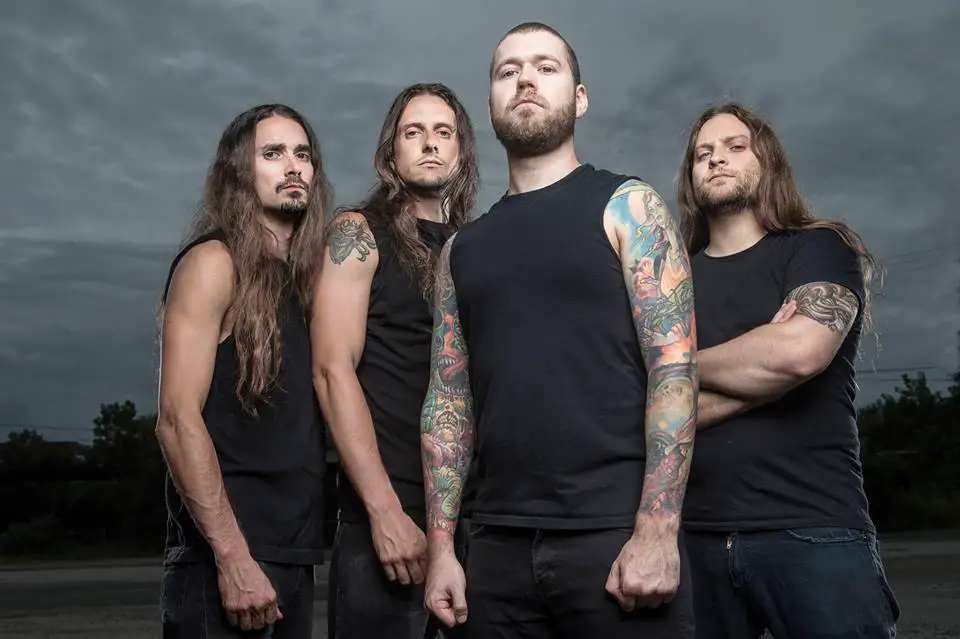 On July 22nd, REVOCATION will release their most dynamic, boundary-pushing and weighty record to-date: "Great Is Our Sin". Today, the band is pleased to debut another track, entitled "Profanum Vulgus". The song, which was first heard with an exclusive interview with front-man David Davidson on the Metal Sucks podcast earlier this week, can also be streamed below.
Additionally, REVOCATION has just released a video providing in-depth footage from the recording process of "Great Is Our Sin", which can be viewed at: metalblade.com– where the record can be pre-ordered in various formats and the previous singles ("Communion" and "Monolithic Ignorance") can be streamed. The lyric video for "Crumbling Imperium" is available on Youtube and can also be seen below.
"Great Is Our Sin" track-listing:
1. Arbiters of The Apocalypse
2. Theatre of Horror
3. Monolithic Ignorance
4. Crumbling Imperium
5. Communion
6. The Exaltation
7. Profanum Vulgus
8. Copernican Heresy
9. Only the Spineless Survive
10. Cleaving Giants of Ice
Reuniting with producer Zeuss (Hatebreed, Bleeding Through), who also helmed 2014′s Deathless and 2012′s Teratogenesis EP, "Great Is Our Sin" packs the requisite punch, yet retains the organic feel with which it was conceived. Known for their technical prowess, the band remained dedicated to upping the ante without ever losing sight of the importance of good songwriting. Whilst the lineup has changed over the ten years REVOCATION has been in existence, David Davidson's (guitars / vocals) passion has never waned, and they are arguably sounding better than ever as they look toward the future. "We can't wait to bring these songs out on the road and perform them for different audiences all over the world," Davidson comments. "'Great Is Our Sin' is a new chapter for the band, and collectively we feel that it is our defining record to date."
In support of "Great Is Our Sin", REVOCATION will be hitting the road this summer as part of the Summer Slaughter tour, alongside Cannibal Corpse, Nile, After the Burial, Suffocation, Carnifex, Krisiun, Slaughter to Prevail and Ingested. The trek kicks off July 23rd in Ft. Lauderdale, FL and runs through August 21st in Atlanta, GA; see below for all dates!
REVOCATION Summer Slaughter Tour dates
July 23 – Ft. Lauderdale @ Culture Room
July 24 – Tampa, FL @ The Ritz Ybor
July 26 – Knoxville, TN @ The International
July 27 – Baltimore, MD @ Rams Head Live
July 28 – New York, NY @ Webster Hall
July 29 – Poughkeepsie, NY @ The Chance
July 30 – Worcester, MA @ The Palladium
July 31 – Cleveland, OH @ The Agora Theatre
Aug. 2 – Minneapolis, MN @ The Cabooze
Aug. 3 – Chicago, IL @ Concord Music Hall
Aug. 5 – Denver, CO @ Summit Music Hall
Aug. 6 – Salt Lake City, UT @ The Complex
Aug. 8 – Seattle, WA @ Showbox SODO
Aug. 10 – San Francisco, CA @ The Regency Ballroom
Aug. 11 – Santa Ana, CA @ The Observatory
Aug. 12 – Los Angeles, CA @ The Novo
Aug. 13 – Tempe, AZ @ The Marquee
Aug. 15 – Dallas, TX @ Gas Monkey Live
Aug. 16 – Austin, TX @ Empire Control Room
Aug. 17 – Houston, TX @ Warehouse Live
Aug. 19 – Richmond, VA @ The National (B4BQ)
Aug. 20 – Wilmington, NC @ Ziggy's By The Sea
Aug. 21 – Atlanta, GA @ Masquerade
[soundcloud url="https://api.soundcloud.com/tracks/265085532″ params="auto_play=false&show_artwork=true&visual=true&origin=twitter" width="100%" height="450″ iframe="true" /]