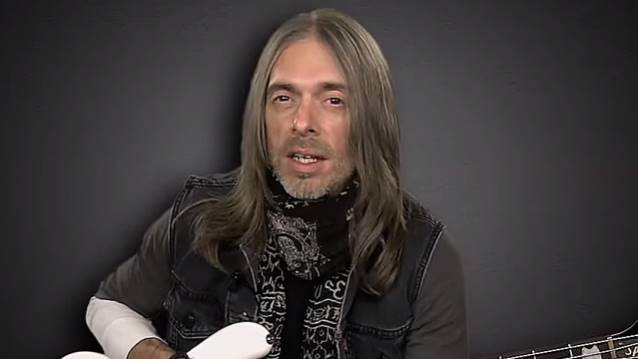 In a new interview with Eonmusic, Rex Brown said that Zakk Wylde wouldn't be involved with a hypothetical tour celebrating the music of PANTERA.
Speaking about how huge PANTERA would be if the band was able to tour now, Rex noted: "It would be sold-out stadium shows. Offers still come in for Philip [Anselmo, former PANTERA singer] and I to do it if we wanted to, but if you don't have the other guys in the band, it's not going to sound the same. If we were ever to do something like that, it would have to be spot-on, or I wouldn't do it. It would be a tribute."
When interview noted added that he wasn't about to ask the usual question about a reunion with Wylde taking the place of late PANTERA guitarist "Dimebag" Darrell Abbott, Rex offered: "It's going to come up, and it wouldn't be Zakk Wylde, I guarantee you that. I've just put it out there so we can get on past it."
In a 2019 interview with Chile's Humo Negro, Anselmo was asked if he would ever consider getting together with bassist Rex Brown to perform PANTERA classics at a show.
"I'm open for anything," he responded. "And Rex and I, we are in touch and we talk. We're friends and everything's cool. So, I keep an open mind – I keep an open mind. We'll see in the future."
Speaking about the possibility of a hypothetical PANTERA tribute tour with Rex on bass and Zakk Wylde on a guitar filling in for the late "Dimebag" Darrell Abbott, he said: "Well, Zakk is a busy man," he said. "He does his own band, he does stuff with Ozzy and all that stuff.
"We spoke about it maybe one time," he continued. "And I think everybody – everybody – is… I guess they're like me. Keep an open mind about it. We'll see.
"But I know from all the hard work with THE ILLEGALS here to make those songs right, all of us, we would have to take time off and really practice together and get everything perfect. So it's a lot of work. And I'm doing a lot of bands, man, right now. [But] if everything was lined up, I would do it – sure. F*ck yeah! Why not?"